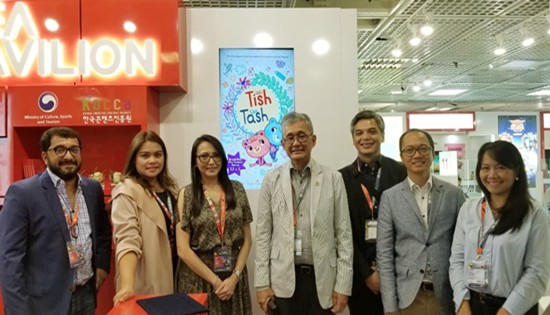 During the signing of contract with Studio Gale (South Korea), August Media (Singapore), Synergy 88 (Philippines) and Karrot Entertainment (London) for the production of 2D entertainment and educational television series called "Tish Tash." From left: Jyotirmoy Saha, CEO at August Media Singapore; Elize Estrada of Synergy88; Jackeline Chua, Managing Partner at Synergy88 Philippines; Undersecretary Mon Ibrahim of the Department of Information and Communications Technology (DICT); Assistant Director Anthony Rivera of Department of Trade and Industry-Export Marketing Bureau; Froilan Pamintuan of Philippine Trade and Investment Center France; and Emmylou Delfin of DICT.
PH animation shines at MIPCOM 2018
By DTI-TIPG
October 24, 2018
MAKATI CITY – THE Philippine animation industry has been featured as a major international content player at the annual Marche' International des Programmes de Communications (MIPCOM), the convergence of the world's most influential industry players in global television and entertainment, which include major acquisition executives, production studios, and producers who seek the right partners in television, film, web-based over the top (OTT) services or subscription video on demand (SVOD), live-action, and animation.
The Philippine delegation to this year's MIPCOM, which opened its doors to 3,800 delegates and 4,800 buyers from 110 countries, offered the world-renowned animation capabilities of Filipinos and the country's own creative intellectual Property (IP) assets.
Philippine companies also actively engaged in business meetings and networking activities held on the sidelines of MIPCOM 2018. They benefited from the sharing of information on industry trends with other companies through a series of talks conducted at the Palais des Festival in Cannes from October 15 to 18, 2018.
Through the MIPCOM, they were able to re-connect with their previous business leads and existing clients and forge partnerships with global studios for animation services, co-production, and content distribution.
The delegation also included animation companies like the Manila-based Toon City, which ranked 22nd of the 50 best animation studios in the world, and Synergy 88, which featured the Filipino Anime series "Barangay 143" currently airing on GMA Network.
Among other animation companies that participated in MIPCOM 2018 were ASI Animation Studios Inc., Toast & Brew Animation and Game Design Studios, IdeaQuest Studios, and Xentix Toon.
The Philippines' presence in the event also secured its reputation as a competent source of game development and animations services. Through MIPCOM, the country also urged IP asset owners to take advantage of the growing Philippine content market.
"We are here to support the Animation Council of the Philippines Inc. (ACPI)," said Undersecretary Monchito Ibrahim of the Department of Communications and Information Technology (DICT).
"As a first timer to MIPCOM, I have come to realize that this is not just any event, but the global marketplace for content, where deals are done instantly, and where entertainment companies are now more than ever in need of more content such as animation, film, and drama, among others" he added.
This year, the delegation also focused on promoting the Philippine services for global animation and on upholding the IP assets or the content developed by Filipinos.
The business matching component of the country's participation in MIPCOM was led by the Department of Trade and Industry-Export Marketing Bureau (DTI-EMB) while the exhibition component was managed by the DICT.
Meanwhile, Undersecretary Nora Terrado of the DTI-Trade and Investments Promotion Group, which administers the EMB, said that the delegation's participation in the MIPCOM reflected the strong capabilities of Philippine creative industries.
"We are glad that Filipino animators are now taking advantage of the opportunities in the global content market," she said.
"We at the DTI are working hand in hand to give our local creative industries sufficient support and fitting avenues that can help them grow and flourish," she added.
As it gathered global acquisition executives, production studios and producers, distributors, and content creators to discuss trends, MIPCOM has also seen a strong collaboration among the DTI, DICT, and the Film Development Council of the Philippines (FDCP).
"Animation is one of our strengths and one of the shows we are promoting here is 'Barangay 143,' the Philippines' first-ever anime" said FDCP Executive Director Wilfredo C. Manalang.
The delegation also received support from the country's two major media networks GMA 7 and ABS-CBN, as well as from ACPI members Toon City, ASI Studio, Synergy88 Digital Inc., Toast and Brew Studios, and Idea Quest.