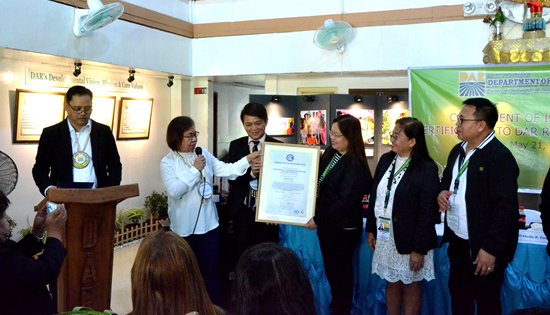 Guardian Independent Certification Ltd President Elsa Purificacion and Senior Auditor Jaime Ignacio (2nd and 3rd from left, respectively) hand over the giant ISO 9001:2015 certificate to DAR-8 Regional Director and ISO Champion Atty. Sheila Enciso (3rd from right) while Lead External Auditor Norlito Suelo (extreme left) and DAR Assistant Regional Directors Ma. Fe Malinao and Ismael Aya-ay (2nd from left and extreme left, respectively) look on.
DAR-8 makes history with ISO 9001:2015 certification
By JOSE ALSMITH L. SORIA
May 31, 2018
TACLOBAN CITY – The regional office of the Department of Agrarian Reform (DAR) in Eastern Visayas makes history as the first DAR Regional Office in the country conferred with the internationally recognized quality management certification based on ISO 9001:2015 standard.
On Monday, May 21, Guardian Independent Certification Ltd President Elsa Purificacion together with Senior Auditor Jaime Ignacio and Lead External Auditor Norlito Suelo handed the giant certificate to DAR-8 Regional Director and ISO champion Atty. Sheila Enciso.
The certificate states that this office "has been audited and found to conform to ISO 9001:2015 for the provision of government services (primarily for the agrarian reform beneficiaries and agricultural land owners), undertaking Land Tenure Services, Technical Advisory and Support Services, Agrarian Legal Services and Support to Operations, including technical assistance, administrative supervision and monitoring to DAR Provincial and Municipal Offices in accordance with the Comprehensive Agrarian Reform Program (CARP) as amended by R.A 9700 to all stakeholder of DAR Regional Office-8".
According to Suelo, "this office never cease to amaze me every time I visit here".
He shared that the first time he came here was two years ago, when DAR Central Office conducted the benchmarking and gap analysis, and every time he comes, he sees improvements.
In response, Enciso said the journey will not stop with the certification, what we have all to undertake with this quality management system documentation is our commitment to "never ending" continual improvement, specifically service excellence that will reap client satisfaction, while at the same time adhering to statutory and regulatory standards.
More than the certificate and recognition that we have received, what is more fulfilling was the change that had happened and has been implemented in our office, she added.
Aware of future surveillance audits, Enciso confidently declared "we can tackle them all because the principle of standard has already been implemented in our hearts and mind and is embraced by everyone".
To all DAR Regional Office-8 employees, she urged them not to consider this recognition as the end of what they had been working, but "as a beginning of a more meaningful and promising endeavor for the good and benefit of our stakeholders".
Meanwhile, DAR Central Office's Agrarian Reform Capacity Development Service Director Susana Serrano disclosed that DAR Regional Office-8 becomes the first DAR regional office to get quality management system certification. The pressure is within you, she added, as you will set the trend for other regional offices who want to be ISO certified.
Suelo further shared that this standard started in 1987 in response to global demand for quality products and services. While in the Philippines, he added that then President Gloria Arroyo issued Executive Order 605 directing all government agencies under the executive branch to adopt an ISO 9001 quality management system as part of the implementation of government-wide quality management program in order to promote and enhance public sector performance.