Government: No. 1 on list of violators of illegal contracting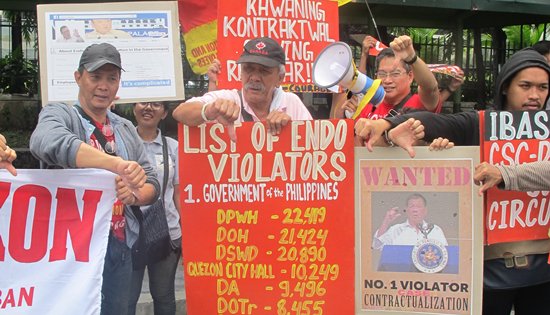 By COURAGE
May 25, 2018
QUEZON CITY – If there is an entity that should be in the list of violators of illegal contracting or sub-contracting, then the first on the list should be the Government of the Republic of the Philippines, Ferdinand Gaite of COURAGE said.
In President Rodrigo Duterte's recent Labor Day speech, he ordered DOLE Secretary Silvestre Bello to submit the list of violators of illegal contracting or subcontracting with today as the deadline. This after Duterte signed Executive Order No. 51 which was supposed to end contactualization but instead only reiterated what was already in the Labor Code or Herrera Law allowing "labor contracting". Gaite said that with the more than 720,000 non-regular workers called casuals, contractuals, job orders, contract of service and others out of the 2.3 million government employees, the government is the largest violator and should be the first to be penalized. This figure pales in comparison with other private companies such as Jollibee, McDonalds, SM and others who have also violated the law against illegal contracting.
According to the Inventory of Government Human Resources of the Civil Service Commission as of 2016, the 720,000 non-regular employees can be found in various government agencies with the Department of Public Works and Highways (22,419), Department of Health (21,424), and the Department of Social Work and Development (20,890) at the top three. Also at the top are the Quezon City Local Government (10,249), Department of Agriculture (9,496), Department of Transportation (8,455), Department of Environment and Natural Resources (8,123) and the Department of Education (6,602). Notable also is that 420,000 of the non-regular workers mostly come from the 1,715 local government units.
In a noontime picket at the DA today, government employees demanded from the Duterte administration for the immediate end of contractualization as he had longtime promised. Roxanne Fernandez of the Kawani Laban sa Kontraktwalisasyon (KALAKON) and a contractual employee from the National Anti-Poverty Commission said that as non-regular workers, they have no security of tenure, no social insurance protection, no or minimal benefits, disallowed from joining unions, have relatively lower pay but actually pay higher taxes as they are treated as "individual contractors" or a business entity.
Fernandez also pushed for the passage of House Bill 7415 authored by the Makabayan bloc in the lower house which seeks to prohibit contractualization in government, grant security of tenure and civil service eligibility for all non-regular workers who have rendered at least 6 months of government service. She said that this should be made a priority bill and urged the lawmakers to immediately pass the bill. She said that Duterte should expect more protests from the public and private labor sector for his failed promises.