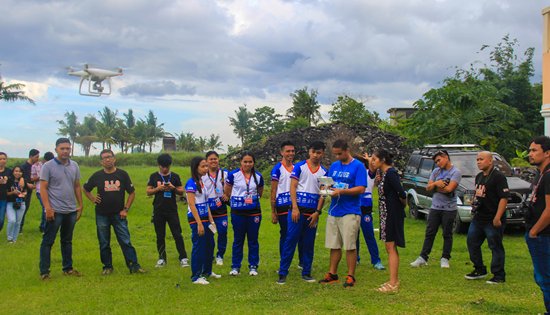 Glenn Lagman (in blue shirt and khaki shorts) of Samar First District Engineering Office gets a first-hand experience in handling drone operation.
DPWH: Public Information Officers take training to new heights
By BON JOSEPH N. ASTILLA
March 27, 2018
CALBAYOG CITY – Public Information Officers (PIOs) of the Department of Public Works and Highways (DPWH) Region VIII upgrade their skills during the first quarterly meeting on March 22-23, 2018 in Tanauan, Leyte. Hosted by the joint efforts of Leyte I, II, III District Engineering Offices and Tacloban City District Engineering Office, the meeting cum workshop tackles drone operation among many others.
The technical name of drones is "Unmanned Aerial Vehicles" (UAVs). They are trending aerial vehicles which come in wide varieties of sizes and shapes and functions, which are controlled either by remote or control systems from the ground. The PIOs take advantage of such device to further up their game in the field of documentation as well as make use of it in audio-visual presentations. In the workshop, PIOs get to have basic knowledge of the tool and equal opportunities in actual flying it to film and capture pictures in high altitude.
Information accumulated though will be wasted if not properly disseminated by appropriate means. This is where improving media relations come into play which is the topic of the resource speaker, Mr. Sarwell Q. Meniano, an editor in the Philippines News Agency. He provided pointers in making press releases that will land media coverage as well as steadily trekking the tricky and fragile relationships with the media. Ms. Antonieta R. Lim, Regional Public Assistance and Information Officer, and her staff added some updates with the Communication Development Program in line with the continuing capability-building effort for PIO designates and it's alternate.
The training culminates with Mr. Sarwell Q. Meniano leaving a reminder, "Never assume that others know what you know. Submitting a story online means you are reaching to a global audience who are not familiar with local and technical terms. Think global in this digital age."