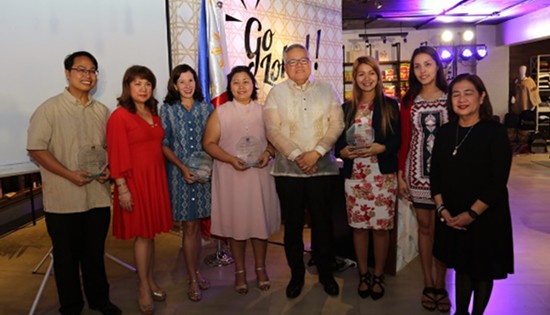 In photo L-R: DTI One Town, One Product (OTOP) Consultant Leon Flores receiving the award for Lipi Shoes, DTI Trade and Investments Promotion Group Assistant Secretary Rosvi C. Gaetos, Gifts and Graces Executive Director Victoria Jalandoni, Vicky's Pili and Food Products Managing Owner Myra Zandra Gestiada, DTI Secretary Ramon M. Lopez, Greenlife Coconut Products Sales and Marketing Director Ma. Frances Rubio and Pamela Rubio, and DTI's Bureau of Domestic Trade Promotion Director Rhodora Leano.
DTI awards top Go Lokal! brand discoveries for 2017
By DTI-TIPG
March 12, 2018
MAKATI CITY – The Department of Trade and Industry through its Go Lokal! program recognized four (4) top MSME suppliers as Top Brand Discoveries for 2017 during its Go Lokal! Buyers' Day celebration on 8 March 2018 at the DTI Go Lokal! Showroom in Makati City.
Lipi Enterprises, Vicky's Pili and Food Products, Green Life Coconut Philippines Inc., and Gifts and Graces Fairtrade Foundation Inc., were awarded Top Brand Discoveries for 2017 after careful screening of all established Go Lokal! MSME suppliers with the following criteria: sales performance, number of retail partners carrying the brand, social impact and professionalism.
"As you know, this initiative of the Department is really meant to elevate and upgrade the kind of Micro SMEs that we have here in the country. We want them to be discovered. We want them to be empowered. We want to give them the mainstream place that they deserve – retail malls and outlets which are our partners. It's different when they are given the chance to succeed," said DTI Secretary Ramon M. Lopez during the awarding.
The awarded brands were among the micro, small, and medium-sized enterprises (MSMEs) registered in Go Lokal! that availed the product development provided by DTI and the free marketing platform through DTI's retail partners.
Mr. Joseph Lucero of Lipi Enterprises, admitted that access to selling areas was their primary obstacle before being a Go Lokal! supplier. "With Go Lokal! initiative, the DTI helped in bringing us into the malls. They were the conduit between the malls and us, small businesses," added Lucero. In 2017, Lipi sales increased to 100% after joining Go Lokal!.
Meanwhile, Gifts and Graces, a foundation that was created to connect Filipino artisans and underprivileged communities with consumers, was able to showcase their products at the Go Lokal! retail store in Robinson's Place Manila.
For Green Life Coconut Products, their presence in various Go Lokal! store locations such as Rustan's, Robinson's Ermita, and in 25 City Malls nationwide contributed to their big sales in 2017 amounting to over seven hundred thousand pesos. Vicky's Pili and Food Products was also recognized for their high-quality pili nut products which recorded a 13% increase in their total sales in 2017 through Go Lokal!
Go Lokal! is a retail concept store and an innovative marketing tool developed by the DTI to showcase quality, cool, modern and 100% Filipino products and help MSMEs in accessing mainstream market.
At present, DTI Go Lokal! has established partnerships with Enchanted Kingdom, SM, Robinsons, Ayala Malls, Rustan's, Duty Free Philippines, Shopwise, Marketa and City Mall. These partnerships paved the way for over 30 Go Lokal! retail stores in the country.