Palm Grass Hotel to mark Leon Kilat birthday and KKK founding with poetry nights
Press Release
June 28, 2018
CEBU CITY – This July 2018, the 126th anniversary of the founding of the Katipunan and Cebu Katipunan leader Leon Kilat's 145th birthday will be celebrated by Palm Grass, the Cebu Heritage Hotel with "BAYAN, BALAK, ALAK", a two-part poetry night.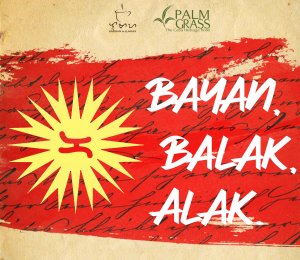 On July 7, from 6PM to 9PM, the founding of the KKK by hero Andres Bonifacio will be commemorated at the hotel's library restaurant, Kapihan ni Lumaya.
The second part of the event will happen on July 31, from 6PM to 9PM, 4 days after Tres de Abril hero Leon Kilat's birthday. It will be at Palm Grass' roofdeck bar Hardin Dagami.
"BAYAN, BALAK, ALAK" is open to both seasoned and contemporary Cebuano poets to share their Filipino or Bisaya poems about our country and society.
On these nights, beer will be 55% off for everyone at the venue, and those who will perform shall be given a free drink.
On the anniversary of the founding of KKK, all dishes and drinks named after Katipuneros will be discounted at 20% off.
Lumaya's most affordable combo meals, the "Kinabaratohang Kaon sa Kapihan" (KKK), offer well-known and loved Cebuano main dishes with side dishes and iced tea, which cost from P79.00 to P99.00 only for the whole year.
As the only heritage hotel in Cebu, Palm Grass pays tribute to the legacy and sacrifice of local heroes by naming floors, rooms, dishes and drinks after them.
The hotel also honors the descendants of Cebuano Katipunero heroes with the Kaliwat Ko'g Katipunero card (KKK) that gives special privileges and special room accommodation rates to members.
The Katipunero descendant must only present a valid ID or any supporting documents that connect the bearer to a Cebuano Katipunero and shall pay an amount of P200.00 for a lifetime membership.
Palm Grass aims to engage all Cebuanos, especially the youth, to learn and explore about Cebu's colorful and valiant heritage.