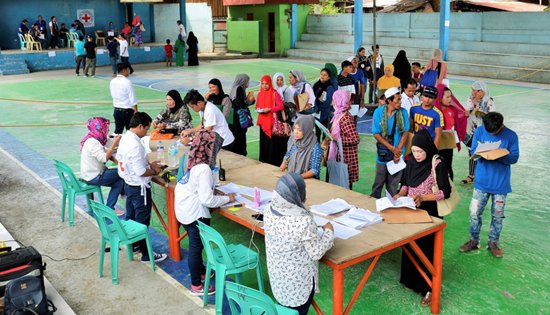 Around 1,000 of the most vulnerable displaced families in five municipalities located in the southeastern part of Lanao del Sur each received P8,000 from the ICRC as livelihood support.
(ICRC/Lany dela Cruz)
Marawi: Livelihood support reaches 5,000 displaced people
By ICRC
June 22, 2018
MANILA – Displaced for more than a year since the start of the five-month conflict in Marawi City, many families in south-eastern parts of Lanao del Sur province continue to struggle due to lack of food and other necessities. The absence of a stable income and capital for small businesses has forced many who were traders before the start of the conflict to rely on farming and fishing.
To help 1,007 displaced families in Butig, Lumbayanague, Lumbatan, Masiu and Poona-Bayabao municipalities earn a livelihood, the International Committee of the Red Cross (ICRC) distributed multipurpose cash grants amounting to P8,000 per family from June 20 to June 22.
"Many displaced families gained access to farmlands and basic tools with the help of relatives. But insufficient funds to buy farm supplies forced them to take loans at a higher interest rate," said Dragana Rankovic, who heads the ICRC team on relief and livelihood assistance.
Grants amounting to P8 million were distributed during the three days, aiming to help the most vulnerable displaced families. These included people with no or low income, those in the evacuation centres, those with multiple dependents especially young children, pregnant women, the elderly and the sick.
One of the recipients, Noronsalam Nasser, a mother of six from Datu Sa Dansalan village in the most affected area in Marawi City, said, "When we fled to Lumbatan, we took up fishing to provide for our families but the income was barely enough to sustain us. With the cash grant, I will set up a small business selling shoes and slippers. This cash assistance will also allow us to send our children to school."
Ever since clashes broke out in May 2017, the ICRC, along with the Philippine Red Cross (PRC), has helped hundreds of thousands of people affected by the Marawi crisis. The focus has shifted to the remaining displaced families in Marawi and Lanao del Sur by improving their access to health care and clean water, along with livelihood recovery.
The ICRC, a neutral, impartial and independent humanitarian organization that assists and protects victims of armed conflicts, also financially supported the PRC's livelihood assistance for at least 1,500 conflict-affected families within Marawi City.