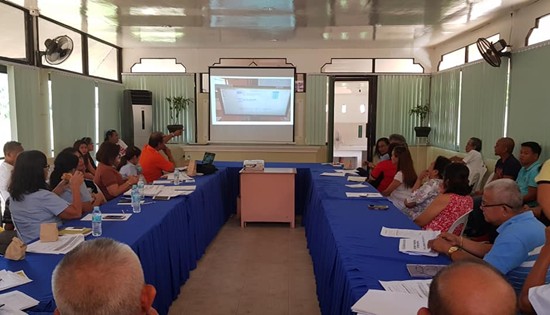 Engr. Filemon A. Abad,(in orange polo shirt in front) delivers a re-echo on their three days seminar on Document Tracking System (DoTS) for Civil Works Project on July 4-6, 2018. The re-echo was conducted at BDEO Conference hall on July 19, 2018 participated by some 50 BDEO Personnel.
DPWH-Biliran DEO set to implement DoTS for fast tracking of documents
Press Release
July 27, 2018
NAVAL, Biliran – To better understand the electronic routing slip system of the Department of Public Works and Highways (DPWH), Biliran District Engineering Office (BDEO) takes initiative to hold a re-echo on the seminar on Document Tracking System (DoTS) for Civil Works Project on July 19, 2018 at BDEO Conference hall.
The DoTS for Civil Works was carried out in a three days seminar at the DPWH Regional Office, Baras, Palo, Leyte on July 4-6, 2018 and was compressed into a three-hour discussion at Biliran DEO to give insights to some 50 Biliran DEO employees who are directly or indirectly involved in documents processing.
DoTS is an electronic and dynamic routing slip develop to monitor the status of documents in the department. It tracks down slow moving documents and pinpoints those responsible for the delay in the processing. This is in line with Department's thrust to fast track the completion of projects and to be transparent in its operations.
Under the leadership of District Engineer David P. Adongay Jr., BDEO will soon be using this system as per DPWH Department Order (D.O.) 142 series of 2017 as it is now being implemented in the DPWH Regional Office VIII as well as in the Central Office.
According to Luisito Filemon A. Abad, BDEO Procurement Unit Head who gave the talk on the DoTS re-echo, the said system has already started in 2012 in the Regional Office but was discontinued after the onslaught of Super Typhoon "Yolanda" (international name Haiyan) in 2013. Presently this is now in operation.
To properly implement the said system in the district, BDEO appointed DoTS officers who has took the recent training on DoTS to smoothly manage incoming and outgoing communications through the said tracking system.
DO 142 series of 2017 re: Implementation of the Document Tracking System (DoTS) for Civil Works Projects covers documents on As-Built Plans, Detailed Engineering Design Plans, Program of Work (POW), Approved Budget Contract (ABC), Award and Signing of Contract, IROW payment and other civil works related documents.