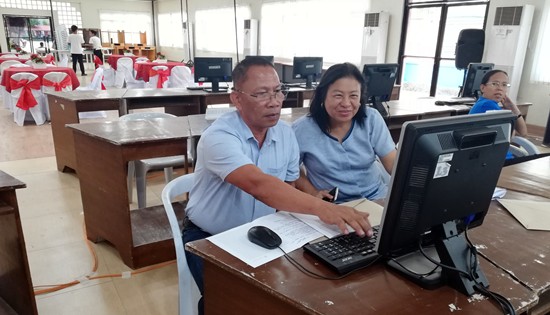 Engr. Enrico Cobacha, Head of Procurement and Engr. Raquel Sumayo, Chief of the Quality Assurance Section are doing hands-on exercises using the DoTS application.
DoTS: Fast tracks project completion and transactions
By MAE ANGELICA R. COMOTA
July 17, 2018
CALBAYOG CITY – The Department of Public Works and Highways – Samar First District Engineering Office (SFDEO) participated in the Training on Document Tracking System (DoTS) for Civil Works from July 9 to 11 at the DPWH Multi-purpose Hall in Baras, Palo, Leyte.
DoTS is an electronic routing slip that was developed to monitor the status of documents in the Department. It tracks down movement of documents, identifies slow-moving areas, and pinpoints those responsible for the delay in the procurement and billing processes.
Documents covered by the DoTS includes but is not limited to plans, program of works, contracts, change orders, time extensions, RROW payments, and first or final payments.
Key personnel from the different sections and units of SFDEO attended the 3-day training. Throughout the entire training period, participants familiarized themselves with the different functions of the application, identified the different types of documents covered by DoTS, generated reports, transmitted documents from one office to another, and performed tasks provided in the DoTS-related department orders.
The purpose of this training is to streamline the Department's business processes by resolving problems such as delays in work completion and bottlenecks in the work flow. Through continuous development of the DoTS, SFDEO can fast track project completion and be more transparent in its operations and transactions.