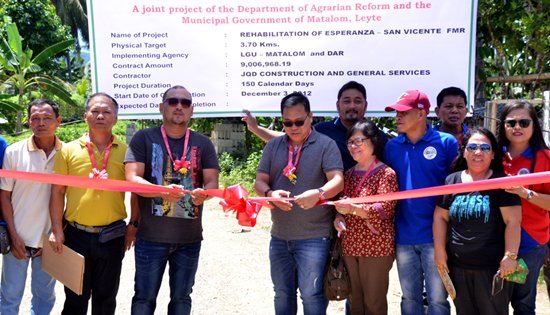 DAR-8 Assistant Regional Director Ismael Aya-ay and Mayor Eric Pajulio (4th and 3rd from left) cut the ceremonial ribbon during the turnover and inauguration rites of two rehabilitated roads in Matalom, Leyte's remote villages.
DAR rehabilitates 2 roads in Matalom's remote villages
By JOSE ALSMITH L. SORIA
July 11, 2018
MATALOM, Leyte – Farmers here see economic opportunities as two remote villages in this third-class municipality can already be penetrated by all types of vehicles after the Department of Agrarian Reform (DAR) rehabilitated the roads in going to Barangays San Vicente and President Garcia.
DAR thru the second phase of the Agrarian Reform Communities Project (ARCP-II) rehabilitated the 3.70-kilometer Esperanza-San Vicente road and the 2.69-kilometer Elevado-President Garcia road.
A double barrel reinforced concrete box culvert and a single barrel, three units reinforced concrete pipe culvert were also constructed along the Esperanza-San Vicente farm-to-market road that would serve as bridge in crossing streams; while in the Elevado-President Garcia farm-to-market road, a single barrel, three units reinforced concrete pipe culvert and slope protection were likewise constructed.
Making sure that travel on both roads will be safe, critical portions were concreted.
Chairman Avelino Acasio of Barangay Esperanza was thankful their road was improved from what used to be a trail where only single motorcycles could pass in going to adjacent Barangay San Vicente. Now, he disclosed that all types of vehicles can already penetrate the area making hauling of farm products for trading fast and easier.
Chairwoman Elda Gato of Barangay President Garcia on the other hand said that with the improvement of the Elevado-President Garcia road, they are now envied by other villages.
Meanwhile, Barangay Elevado Chairman Roselito Palen shared that they find it easy now to travel whether in going to the mountains or in going to the town proper.
About five thousand residents in these areas, wherein more than 900 are agrarian reform beneficiaries (ARBs), are benefited by these projects with a combined cost of P18.6-million shared by the national government thru a loan from the Asian Development Bank (ADB) and the local government unit (LGU).
Thus, Provincial Agrarian Reform Program Officer-I Paulina Canales reminded the recipient barangays during the simultaneous turnover of the said projects recently to maintain the roads in good condition for a period of 10 years, otherwise the loan portion will be shouldered also by the recipient LGUs.
Assistant Regional Director for Program Beneficiaries Development Ismael Aya-ay led the turnover rite and announced on the same occasion other support services DAR is providing particularly to ARB organizations (ARBOs).
In acceptance, Mayor Eric Pajulio thanked DAR for all the assistance it has extended to his town. He likewise encouraged the recipient barangays to allocate funds from their Internal Revenue Allotment (IRA) for the maintenance of the roads.
Further, Vice Mayor Ma. Nicolina Caube suggested not to allow heavy equipment vehicles to pass these routes during rainy days to preserve the good condition of the roads.