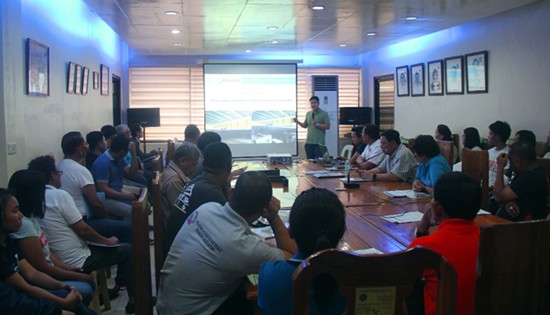 Polyvinyl Chloride (PVC) Sheet Piles Orientation held at Samar First District Engineering Office (SFDEO) conference room.
DPWH-Samar 1 welcomes eco-friendly innovation in infrastructure projects
By BON JOSEPH N. ASTILLA
April 20, 2018
CALBAYOG CITY – Samar First District Engineering Office (SFDEO) held an orientation on a new innovative material called Polyvinyl Chloride (PVC) sheet piles at the Samar First conference room, on April 19, 2018.
Attended by representatives from District Engineering Offices (DEOs) of Samar First, Northern Samar First and Second, and construction firms such as B. Vicencio Builders Inc., ACME Builders Corp, Victoria CSDC, and ESD Cruz Construction and Supply, the orientation ushers the use of Polyvinyl Chloride (PVC) sheet piles as an excellent alternative to steel sheet piles used in infrastructure projects.
District Engineer Alvin A. Ignacio of Samar First invites people from Pietrucha Manufacturing Philippines Inc. to talk about this innovation. Mr. Raymond Tenchavez, Business Management Manager of Pietrucha, claims that PVC sheet piles come with a variety of applications as well as its own advantages.
It is light, easy and simpler to install with the use of standard tools compared to other sheet piles of this type thanks to the unique flat surface project. The product contains material obtained from the recycling of structural PVC with the possibility for further processing serving as an ecological solution. Long term protection is guaranteed without the need of maintenance due to the material is completely resistant to bio-corrosion, rust, cracking, seawater and uv rays. The total savings in material and installation reach more than 30% relative to steel sheet piles.
PVC sheet piles can be used in the regulation of beds of rivers, canals (i.e. irrigation, channels) or reservoirs; as retaining walls, for securing excavations, landslides and slopes; as leakproof walls, for shielding limiting groundwater infiltration; building and improving dykes; and securing places with a variable water level and flood banks.
PVC sheet piles prove to be an ecological and cheap, maintenance-free solution, designed for many years of use.