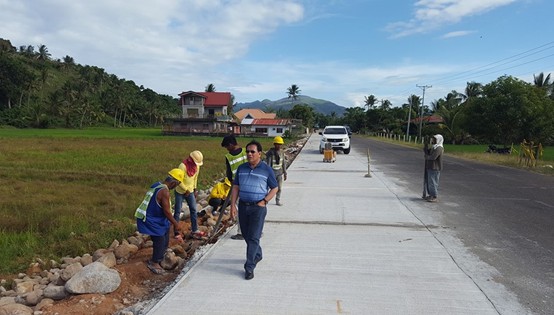 District Engineer David P. Adongay Jr., (wearing shades) inspects the on-going road widening project along Biliran Circumferential Road (BCR) - Burabod, Biliran Section on March 6, 2018. Completion of this project will accommodate huge number of vehicular users. It is target to be completed on May 1, 2018.
DPWH-Biliran DEO's 2017 projects posts 67.93% accomplishment
By DPWH-BDEO
April 4, 2018
NAVAL, Biliran – Engr. David P. Adongay Jr., District Engineer of the Department of Public Works and Highways Biliran District Engineering Office (DPWH-DEO) said that the district will finish the on-going 2017 projects based on their target schedules.
Biliran DEO posts 67.93% accomplishment for 2017 projects with a negative slippage of 5.55% as of March 31, 2018. This is already behind of the district's 73.48% planned target accomplishment.
Adongay said that contractors were ordered to speed-up the implementation of the on-going 2017 projects for completion.
"Ginagawa talaga namin ngayon, una, we are requiring the contractor to render overtime even during night time. Pangalawa, to add their additional resources, yung mga equipment nila," said Adongay.
Adongay revealed that delayed projects for 2017 implementation were those projects with an allocation budget of P50M and above.
"Projects more than P50M were delayed because the approval of the authority to bid and implement just happened on the 1st quarter of year 2017," he said.
As of March 31, 2018, out of the 57 projects, 51 were completed while six are on-going.
Among the on-going projects for year 2017 implementation are the P61M Rehabilitation of Slope Protection along Naval-Caibiran Cross Country Road (NCCR), P54M Access Road Leading to Naval Port, P49M Rehabilitation of Slope Protection along Biliran Circumferential Road (BCR), P172M Widening along Biliran Circumferential Road (BCR) and another P125M Widening along BCR on six road sections and P128M Rehabilitation of Maripipi Circumferential Road.
Aside from the late approval to implement the projects, Adongay said that the devastation of typhoon Urduja last December, 2017 is also one of the main reasons for the delay of project implementation in the province.
"Naapektuhan tayo sa pagtransport ng ating aggregates, kasi yung ating CarayCaray Bridge hindi madadaanan ng Malaki (heavy vehicles), so they have to travel to the alternate road which is 90 kms, malayo din yun," he said.
The CarayCaray Bridge is one of the main bridges of the province which was damaged by the onslaught of typhoon Urduja. It is the only shorter access in going in and out of Mainland Leyte.
According to Adongay, remaining 2017 projects will be finished on May and June this year except for the Maripipi Circumferential Road which is scheduled to be completed on October, 2018 because of the difficulties in transporting the equipment and materials to the island town.
"With the good weather, hindi naman sana mangyari yung katulad sa Urduja, walang reason na hindi namin matatapos lahat to'," Adongay said.