Former DSWD Sec. Judy Taguiwalo on Pork Barrel
By Bagong Alyansang Makabayan (BAYAN)
October 13, 2017
QUEZON CITY – Former Department of Social Welfare and Development (DSWD) and retired University of the Philippines (UP) professor Judy M. Taguiwalo today reacted to the declaration of House Committee on Appropriations chairman Karlos Nograles that the P3.767 trillion budget for 2018 is "pork barrel free," saying that while no pork allocation is apparent in how the budget is presented or written, the only way that a no pork assertion can be true is if lawmakers refrain from demanding from national government agency heads for "their money" and the agency heads stand firm in resisting the pressure of these lawmakers.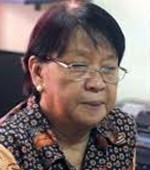 After all, what was declared by the Supreme Court as illegal pork is the post-enactment hand of the lawmakers in the implementation of the budget. A number of lawmakers sanitize the pork by asserting that they are merely fighting for the money that they worked so hard for their constituents when they know that such intervention post-enactment is illegal, not to mention, that irregularities, including corruption occur.
Taguiwalo said that when she assumed office in DSWD, her commitment was to provide a leadership that gives no room for corruption by ensuring that fund allocation is guided by the General Appropriations Act (GAA) and by shielding DSWD funds from external forces that sought to influence how the department disbursed its funds and implemented its programs beyond or outside the specifications in the national budget.
With the declaration of the Supreme Court that any form of direct allocation to legislators in the budget is unconstitutional, the former practice of specific amount allocated to a legislator in the approved budget was officially removed from the GAA. But it appears that some legislators have not internalized this ruling or are finding ways to circumvent it.
"I am not a lawyer, but I know that the disbursement of funds is not among the functions of legislators. Their function is primarily and strictly legislative, not executive, but they choose to ignore this and continue to engage in patronage politics. They use pork barrel funds to wield influence over their constituents. There was even one lawmaker who in an effort to talk me out of my opposition to specific allocation to individual legislators assured me that it is not about corruption but about patronage or 'in aid of re-election', making it sound as if there is nothing wrong at all with patronage, not to mention that I did not buy the idea that it's just all about patronage," she shared.
"I believe there is a need for us to continue the fight against pork. It did not end when cases were filed against Napoles and her cohorts. It still exists and its evils are staring us in the face.