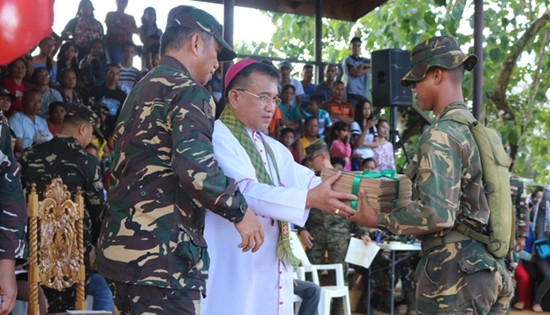 Most Rev. Isabelo C. Abarquez, D.D., Bishop Diocese of Calbayog hands over the certificates to the Class President of Class 463-17.
New breed of soldiers to serve in Eastern Visayas
By DPAO, 8ID PA
November 15, 2017
CAMP LUKBAN, Catbalogan City – The 8th Infantry (Stormtroopers) Division, Philippine Army spearheaded the Closing Ceremony of the Candidate Soldier Course Class 463-17 and the Ceremonial Entrustment of Firearms held at 8ID Jungle Base, Camp Eugenio Daza, Barangay Fatima, Hinabangan, Samar on November 15, 2017.
The closing ceremony was graced by Most Rev. Isabelo C. Abarquez, D.D., Bishop Diocese of Calbayog as the Guest of Honor and Speaker who further led the ceremonial entrustment of firearms, distribution of certificates and awarding of individual achievements. The entrustment of firearms to the newly enlisted privates symbolizes their responsibilities and commitment to the people and the country.
The majority of the new privates came from Eastern Visayas and Mindanao. On their educational profile, 19 of them are college graduates; 44 are college undergraduates and; 91 are high school graduates with skills training from TESDA.
The privates were declared graduates by Lt. Col. Alexander N. Salgado, Commandant, 8DTS for having completed the Basic Military Training (BMT) at the 8th Division Training School.
Bishop Abarquez also extended his profound congratulations to the proud parents who gave their all-out support to their sons in order to hurdle the training for enlistment to the regular force of the AFP.
In behalf of the Commander, 8ID, Col. Clifford Cyril Y. Riveral, Assistant Division Commander for Reservist and Retiree Affairs challenged the members of Candidate Soldier Class 463-17 to take advantage on the gains of their training and exert much effort, to achieve more towards accomplishment of their respective unit's mission thereby contributing to the overall mission of the Army.
In his message, Bishop Abarquez said that the progress and development of our country depends on what our attitude towards our work. We should see our work as a real service to our country, to be good citizens of our country. You just have to do well what is expected of you. Be good citizens, be good breed of soldiers. Use your profession for the greater glory of God and be productive for our country and community. He likewise reminded the new breed of soldiers that no matter where they may be assigned, they should never forget to pray and to ask guidance from the Almighty Father.