DPWH Samar I now ISO certified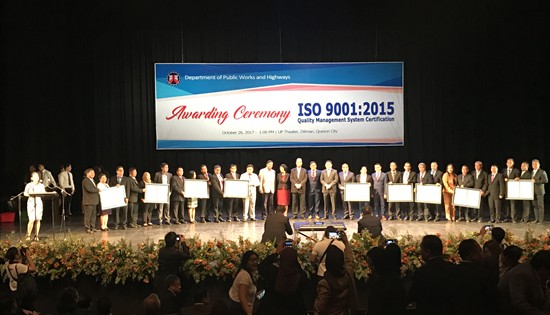 By MAE ANGELICA R. COMOTA
November 10, 2017
CALBAYOG CITY – Vice-President Paul B. Bagatsing of the Anglo-Japanese American (AJA) Registrars Inc., which conducted an audit on the DPWH Quality Management System, awards the ISO 9001:2015 certification to DPWH Secretary Mark A. Villar and heads of the Regions, Services and District Offices in a ceremony held last October 26, 2017 at the UP Theater in Diliman, Quezon City.
ISO Certification is an accreditation conducted by external certification bodies to ensure that the performance of an organization's inter-related processes and activities are in line with international standards.
During the event, Mr. Bagatsing delivers a congratulatory speech by quoting Thomas Isaac Robin, "happiness does not come from doing the easy work but from the afterglow of the satisfaction that comes after the achievement of a difficult task that demanded your best". He also gave a task to the DPWH to better their best for the future.
Secretary Villar then departs with a message encouraging the awardees to go further by creating a new standard that is beyond the accomplishments of the past in order to provide a higher level of service for the country.
District Engr. Alvin Ignacio receives the award on behalf of DPWH Samar First and presents it to the Section Chiefs during their regular staff meeting last October 30. He informs them that the ISO certification is an advantage since transactions and processes for customer and contractor relations will become faster and more streamlined through the improved system.
DE Ignacio reminds all to put into practice the words of Mr. Bagatsing and Sec. Villar in the aspiration to reach new heights in public service for the benefit and betterment of the life of every Filipino.