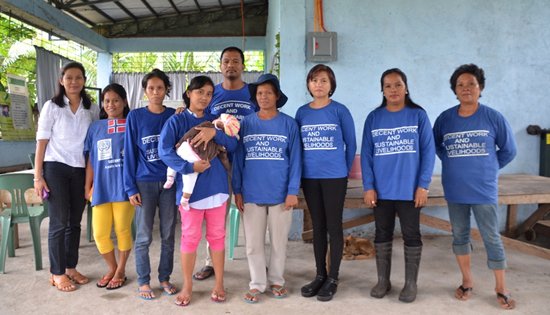 Some of the members of the Magbinuligon Bayanihan Association-Women in Development Association (MBA-WIDA) pose with Municipal Agrarian Reform Program Officer Maritess Nacilla (extreme left).
(Jose Alsmith L. Soria)
SPECIAL REPORT
It takes a woman to do a man's job: The MBA-WIDA story
By JOHN CHRISTOPHER COLASITO
March 23, 2017
TACLOBAN CITY – Former British Prime Minister Margaret Tatcher, once said, "...that whenever you want things said, give it to a man, and when you want things done, give it to a woman." The women of Magbinuligon Bayanihan Association – Women In Development Association (MBA-WIDA) formerly the Opong MPC are proof that women can indeed bring change and make things happen.
Formed from the defunct Opong MPC, the MBA was organized with the help of DAR in 2009. According to DAR Agrarian Reform Program Officer I (ARPO I) Ma. Milagrosa Noveda, she spearheaded the reorganization effort of what is now the MBA, and has 379 members, 197 of which are females and 182 are males. It is a federation or network organization, with WIDA as its affiliate member.
The organization has a one (1) hectare communal farm planted to high yielding vegetable varieties, in addition to a less than a hectare tilapia fish pond. It is also engaged in rice production.
But the women of MBA-WIDA, have walked the extra mile. They may look comely, shy and pretty; but mind you, some of them are certified welders with NC II certificates from TESDA. Some have also received training in carpentry and masonry, and gentlemen, take a bow, these ladies constructed their warehouse from scratch. ARPO I Noveda says that these women actually built their warehouse, and it was a sight to see them holding hammers, welding tools and do construction work. Welding, carpentry and masonry, are traditionally the preserve of men. It is not every day that we find women in a rural community break the gender barriers, and the women of MBA-WIDA, have shown they can indeed make a difference.
In a rural community, the traditional occupational roles are very much emphasized between sexes. However, things were to change when super typhoon Yolanda came. It brought change at a rapid pace.
Several international non-government organizations, private agencies and donors, and government agencies poured assistance to calamity-stricken areas, Tolosa, included. There was also a serious shortage of skilled labor particularly for carpenters, masons, plumbers, electricians and the like. Soon, government agencies and civic-minded organizations started training those interested in these skilled occupations that were in short supply. These trainings included both men and women, and the members of MBA-WIDA. Together, they were a force in the rehabilitation and development of their community. After Yolanda, it opened several opportunities for livelihood and entrepreneurship.
But they did not stop there. They were able to access ILO funding worth P2M, more or less, for the construction of their building with provisions for an office and storage area. It was here that the women showed their carpentry, masonry and welding skills, and did traditional chores that used to be the preserve of men, a few years back. Yes, there were males who helped them along the way, but this was something new and it signalled a new chapter in the life of empowerment of women in local life.
They were also a beneficiary under the Partnership Against Hunger and Poverty (PAHP), ARPO I Noveda said. They also availed of the on-site training provided by DAR and from partners. Today, they are engaged in addition to their vegetable production where they produce bell peppers, they are in vermi-cast production, an organic fertilizer derived from African Night Crawlers earthworms with technology provided by the DAR. They produce green charcoal briquettes. They have also engaged in the production of red rice organically, which is in high demand for the wellness and health conscious market, particularly the diabetics.
They have diversified their interests: meat processing, and catering business. In line with this, they underwent trainings in food preparation and food handling, table skirting. They have also produced nuggets from vegetables. Their latest venture is the production of organic dishwashing liquid, which they started marketing in their area.
The MBA-WIDA is an epitome of empowerment, breaking traditional stereotypes. They have also learned to think of their future, access and mobilize resources to effect their plans. They may have to deal with challenges along the way. But after the storm, they have charted their lives in their hands, and blazed new trails.