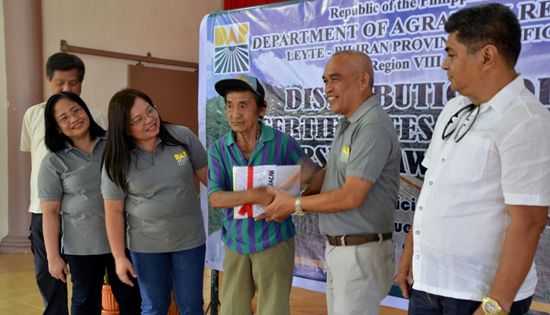 Angel Cabello (3rd from right), a 78-year old farmer from Jaro, Leyte, is being congratulated by Provincial Agrarian Reform Program Officer Renato Badilla (2nd from right) after receiving his certificate of land ownership award (CLOA) from DAR Regional Director Atty. Sheila Enciso (3rd from left). Others in photo from left are: CARITAS country coordinator Jess Agustin, Assistant Regional Director Ma. Fe Malinao and Leyte Registry of Deeds Head Atty. Emeterio Villanoza.
(Jose Alsmith L. Soria)
A septuagenarian farmer among DAR's beneficiaries
By JOSE ALSMITH L. SORIA
March 10, 2017
SAN MIGUEL, Leyte – A 78-year old widower was among the 658 farmers from three Leyte towns who received their long awaited certificates of landownership award (CLOAs) from the Department of Agrarian Reform (DAR) last week at this town's auditorium.
Angel Cabello from Jaro could only say he was so happy after receiving the land title to the 2.1-hectare coconut land he is tilling.
DAR Regional Director Sheila Enciso led the distribution of the 344 CLOAs covering a combined area of 689.6 hectares of farmlands situated in 21 barangays within this town and in the municipalities of Jaro and Barugo.
But before the CLOAs were handed to the recipients, Agrarian Reform Program Officer Wendell Ariza gave a lecture first to the former their rights as well as their obligations as agrarian reform beneficiaries (ARBs).
Enciso, assisted by Assistant Regional Director Ma. Fe Malinao, Leyte Provincial Agrarian Reform Program Officer Renato Badilla, Head of the Leyte Registry of Deeds (ROD) Atty. Emeterio Villanoza, RIGHTS National Coordinator Danny Caranza, CARITAS Country Coordinator Jess Agustin and Vice Mayor Atilano Oballo, explained why it took long for DAR to distribute the CLOAs.
According to her, after the release of the titles at the ROD there is a need for DAR to validate the CLOAs to check whether the information in the said documents are still correct.
She likewise advised the ARBs not to sell their CLOAs nor convert their farmlands into another uses to ensure food security.
Further, Enciso disclosed that DAR has P288-million additional budget for support services. Her office, she added, received instructions from Undersecretary for Support Services Rosalina Bistoyong to submit project proposals for funding until Friday. In relation to this she directed the Program Beneficiaries Division to discuss with the ARBs in identifying projects that would help increase the farmers' production and income, and submit project proposals before Friday.
Meanwhile Badilla acknowledged the partnership that has been established between DAR and the RIGHTS, the non-government organization assisting these farmers, which resulted to the release of these CLOAs that were pending at the ROD since 1994.