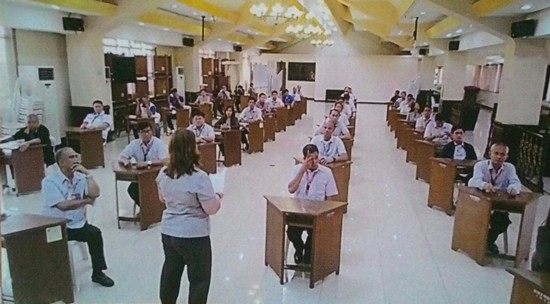 To gauge the effectiveness of the training, a comprehensive exam was conducted to the participants on the last day of the District Engineer Candidate training Course on June 9, 2017 at the DPWH Central Office Training Room, Manila. Engr. Alfredo L. Bollido, (sitting front most right) OIC-Assistant District Engineer of Biliran District Engineering Office is one of the examinees of the training.
ADE Bollido attends district engineer candidates training course
Press Release
July 14, 2017
NAVAL, Biliran – Engr. Alfredo L. Bollido, OIC-Assistant District Engineer of Biliran District Engineering Office (DEO) attended a 24-day District Engineer Candidates Training Course from May 9- June 9, 2017 at the Department of Public Works and Highways (DPWH), Central Office, Manila.
The seminar workshop was participated by 38 incumbent OIC-District Engineer, Assistant District Engineer and OIC- Assistant District Engineer of the DPWH from different Regions of the country.
Considering the very delicate and vital task of the department, Engr. Bollido said that the 24-day course for District Engineers is designed to equip them with all the knowledge and skills that would make them competent and effective in their roles and responsibilities in various stages of project implementation.
Due to the nature of the course, a variety of specialist resource personnel were invited within and outside DPWH with expertise in the design, construction, maintenance, materials quality control, project management, legal, financial and administrative discipline.
Engr. Bollido said that the training courses were divided into seven modules which cover the whole 24-day of training from 8:00AM - 5:00PM inclusive of one Saturday for Project Evaluation an Assessment (Field).
Discussed under Module I are the Principles of Management which mainly focuses on the Overview: Management and Functions Planning, Organizing, Leading and Controlling; Module II - Planning and Design which focuses on the Environmental Impact Assessment and Detailed Feasibility Study; Module III Contract and Resource Management which focuses on Communication Management: The Importance of Stakeholders Relations and Communications in Infrastructure Projects; Resources Management- Equipment Utilization/ Allocation and Financial Management and Control; Module IV- Construction Methods; Module V-Materials Quality Control; Module VI – Project Monitoring and Control and Module VII – Administrative and Legal Discipline which highlights the Accountability of Public Officials.
Bollido revealed that the methodologies employed during the training include lecture-discussion, audio-visual presentation, workshop, case studies and project evaluation and assessment.
"After every discussion, an intellectual exercise were given at the end of every module and before graduation, a comprehensive exam was given to us on the last day of the training to gauge its effectiveness," said Bollido.
At the end of the course, participants were expected to enhance their managerial skills in project implementation through following procedures for various project categories, design data, criteria and standards; undertake and evaluate the planning, design, construction, and schedules of projects; undertake project evaluation and supervision of maintenance of such local roads, and other infra projects; apply quality control measures in project implementation; acquire the necessary know-how on effective and efficient utilization and management of manpower, materials and equipment; acquire effective communications in project management; apply the latest and innovative approaches/ techniques in project management; and be aware of the values that a District Engineer should possess and internalize in their roles and responsibilities.
The 24-day training ended with the giving of certificates to all participants who successfully completed the requirement of the course for the District Engineer Candidates Training.