Former DILG secretary Mel Sarmiento mentors Mayor Richard Gomez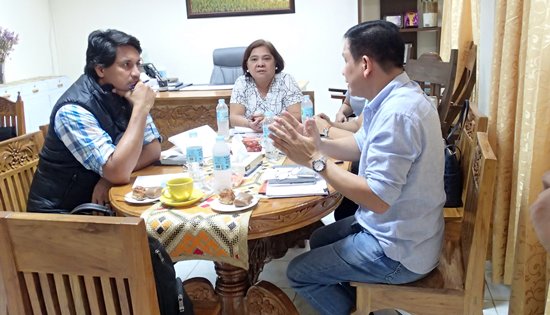 By MYLES JOSEPH E. COLASITO
February 2, 2017
TACLOBAN CITY – Former DILG Secretary Mel Senen Sarmiento, an award-winning former mayor of Calbayog City, had a productive mentoring session with Ormoc City Mayor Richard Gomez last January 31, 2017 at the DILG-8 Regional Office in Tacloban City.
The conference was facilitated by DILG Local Government Academy (LGA) and DILG-8 under the Mentoring for Optimal Leadership and Development for Newly Elected Officials (MOLD the NEOs) program. The mentoring relationship is bound by a contract by the two parties with DILG and LGA, which aligns the mentor and NEO's expectations and guides them throughout their mentoring time together.
According to Mayor Gomez, he is thankful to DILG for this program is a good tool to validate how his administration is performing. Among the topics the two discussed in this session was long-term planning, resource mobilization, peace and order and the environment.
Mayor Gomez seeks to pursue initiatives they started in 2016 that involved crafting new ordinances as part of a road map to make Ormoc a liveable, business friendly, competitive and peaceful city.
Former Secretary Sarmiento belongs to a pool of recognized experts in local governance tapped by LGA to guide new mayors. He also mentors Maasin City, Southern Leyte Mayor Nacional Mercado and Dulag, Leyte Mayor Mildred Que, with possibly more to follow.
Sarmiento helped design MOLD the NEOs process with LGA Executive Director Marivel Sacendoncillo (also concurrent DILG-8 OIC-Regional Director) when he was still DILG secretary. After his term ended, he was asked to help guide the new mayors due to his wide experience as a Galing Pook winner and congressman, among others.
MOLD the NEOs was crafted with the realization that local officials are more receptive to advice from their peers who have the credibility and experience in resolving relevant problems.
Under MOLD the NEO, both parties shall agree on the objectives, types of knowledge and skills to be imparted, duration, basis, regularity, communication and their forms of interaction, making the relationship dynamic.