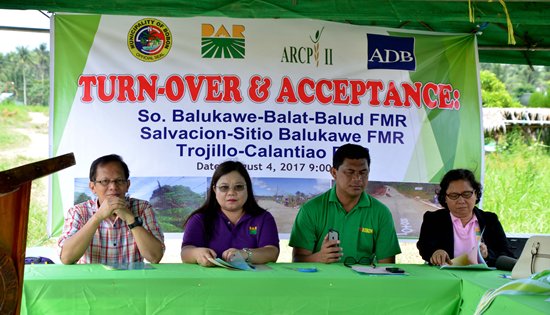 DAR Regional Director Sheila Enciso (2nd from L) and Bobon, Northern Samar Mayor Rene Celespara (3rd from L) lead in the turnover and acceptance rites of three farm-to-market road projects implemented in this town under the second phase of the Agrarian Reform Communities Project (ARCP-II). Others in photo are Romy Maningas (extreme L), who represented DAR Undersecretary Sylvia Mallari, and Provincial Agrarian Reform Program Officer Nida Abelido (extreme R).
DAR turns over 3 'dream roads' in N. Samar
By JOSE ALSMITH L. SORIA
August 10, 2017
BOBON, Northern Samar – Many did not believe these roads were going to be realized.
This was the common story shared by residents here as the Department of Agrarian Reform (DAR) turned over last Friday three farm-to-market roads coinciding with this town's 154th founding anniversary.
DAR Regional Director Sheila Enciso formally turned over to the local government unit (LGU) and to the recipient barangays the 1.5-kilometer all-weather Balukawe-Balat Balud road, the 1.7-kilometer concreted Salvacion-Balukawe road and the 1.1 km. concreted Trojillo-Calantiao road.
The three road projects with a total cost of P28.2-million were implemented under the second phase of the Agrarian Reform Communities Project (ARCP-II) through a loan by the national government from the Asian Development Bank (ADB).
Though 40 percent of the total amount was shouldered by the LGU as equity, Mayor Rene Celespara thanked DAR for helping them realize build the roads, a long cherished dream especially for the residents of Barangay Balat Balud.
Barangay Balat Balud Chairman Jimmy Baldestoy disclosed that they used to pass by Barangay Quezon in reaching their village as there was no access road in going straight to their place from the national highway.
Baldestoy narrated that from the town proper, one rides a single motorcycle in going to Barangay Quezon. Upon reaching the river, he/she will ride a banca in crossing, and then walk several meters more to reach their village, he added.
But now, with the presence of a road, the more than three kilometers trip was cut short by one kilometer, more convenient and less expensive, Baldestoy stressed.
According to him, the P60 total fare was reduced to P20.
Residents of the four affected barangays by the three road projects narrated that many lost hope that a road will be constructed in their area as promises remained promises.
Provincial Agrarian Reform Program Officer (PARPO) Nida Abelido reminisced how residents in these barangays identified access road as among their priority needs during a consultation dialogue in the past. According to her, she cannot also forget the reaction of some who did not believe this will be realized.
Meanwhile, Enciso reminded the recipients to maintain the said roads in good condition for the next 10 years. Otherwise they will be shouldering also the 60 percent share of the national government thereby converting the grant into a loan.
In the same occasion, Enciso also distributed 26 certificates of land ownership award (CLOAs) covering 45.7 hectares of agricultural lands situated in the barangays of Magsaysay, J.P. Laurel, Trojillo and Calantiao to 25 agrarian reform beneficiaries (ARBs).