Climate justice groups push DENR Sec. Gina Lopez to halt coal projects!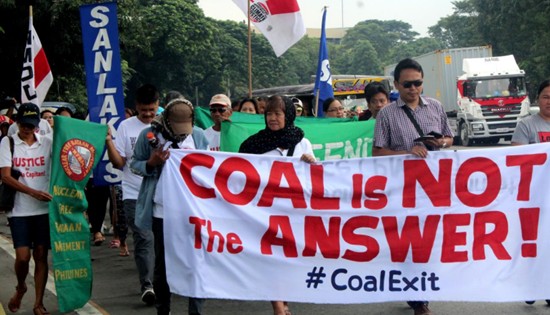 By Philippine Movement for Climate Justice
September 20, 2016
QUEZON CITY – An array of people's organizations, climate justice groups, and members of coal affected communities marched across Quezon City Circle to the Department of the Environment and Natural Resources (DENR) on Monday, mobilizing for the growing national campaign, "COAL IS NOT THE ANSWER!" They met with DENR Secretary Gina Lopez who listened to their demands to hall coal-fired power plants (CFPPs), coal mines, and coal stockpiles that gravely affects the environment, and health and livelihoods of people living near them.
Val de Guzman, Energy Campaign Officer of the Philippine Movement for Climate Justice (PMCJ), stated, "We have been asking the DENR for a moratorium on all coal projects. Had the agency listened to our demand, issuance of Environmental Compliance Certificate (ECC) to 4 big coal plants could have prevented last year." The DENR is also issuing ECCs to coal mining and coal stockpiles. "We are here again to demand our freedom from coal, which is a dirty source of energy that has been polluting local communities and worsening the climate crisis." added Derec Cabe from Nuclear Free Bataan Movement which also assists communities in Bataan in their fight against coal.
The Philippines is heavily dependent on the use of coal to produce energy when in fact the country is extremely rich in sources of clean, safe, and renewable energy like solar, wind and hydro power. The preference of the use of fossil fuels over renewable energy is the primary reason why coal projects continue to thrive in the county but at the cost of people's suffering.
Semirara, for example, has experienced the toxic contamination of its water resources and mangrove forests as well as deaths of mining workers in the Philippines' largest coal mine located there, while Tondo residents have suffered from severe air pollution and increasing skin and lung diseases ever since Rock Energy International Corporation began operating a coal stockpile in the area beginning in 2014. Meanwhile, Verde Island Passage – the strait between Luzon and Mindoro islands which has been dubbed the "center of the center of the world's marine biodiversity" – is facing alarming threats to its extraordinary diversity of sea life once the JG Summit's 600 MW coal power plants starts to operate in Batangas City.
The groups emphasize the role of coal in the current global climate crisis. It was agreed upon at the climate negotiations in Paris that the international community must limit the Earth's global average temperature increase to 1.5-degrees Celsius. Gerry Arances, Executive Diretor of the Center for Energy, Ecology, & Development (CEED) stated that "to achieve this target, all the remaining coal underground should be left untouched and no more coal power plants must be allowed to operate. We are already beyond 'safe' limits and this will severely compound and exacerbate impacts of vulnerable countries like the Philippines."
Meanwhile, the Energy Regulatory Commission (ERC) has suspended the processing of applications for power supply agreements (PSA) which do not environmental compliance certificates (ECC) from the Department of Environment and Natural Resources (DENR).
The groups have also sought a meeting with Department of Energy Secretary Alfonso Cusi, however the department has not replied despite the several requests asked.