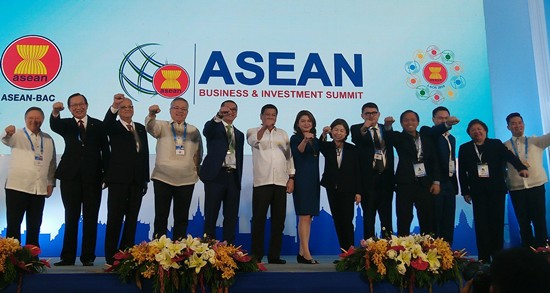 Philippine President Rodrigo Duterte marked his first participation in the 13th ASEAN Business and Investment Summit on 6 September 2016 in Vientiane, Lao PDR. Joining him were DTI Secretary Ramon Lopez, Finance Secretary Carlos Dominguez III, the Philippine-ASEAN Business Advisory Council (PH-ABAC) led by incoming chairman Mr. Joey Concepcion, Ms. Tessie Sy-Coson and Mr. George T. Barcelon, and the Filipino Entrepreneur Awardees at the 2016 ASEAN Business Awards, led by Ms. Sherill Quintana of Oryspa.
Duterte: ASEAN must support MSME development; Shares PH economic focus towards inclusive growth
Press Release
September 8, 2016
Lao PDR – Philippine President Rodrigo Duterte declared that the Philippines' economic thrust for inclusive growth will focus on innovating micro, small and medium enterprises (MSME) development, e-commerce, youth and women entrepreneurship, as he served as one of the speakers in the 13th ASEAN Business and Investment Summit (ABIS) held on 6 September in Vientiane.
The President believes that in order to be a global player, ASEAN must ensure the effective implementation of key economic agreements and the integration of existing sub-regional cooperation frameworks in ASEAN such as the Greater Mekong Subregion (GMS), the Indonesia-Malaysia-Thailand Growth Triangle (IMT-GT) and the Brunei-Indonesia-Malaysia-Philippines East ASEAN Growth Area (BIMP-EAGA).
"Hailing from Mindanao, I commit to promote BIMP-EAGA. We intend to open up our other major islands like Mindanao and the Visayas with high quality backbone infrastructure," he said, adding that the Philippines will accelerate infrastructure spending by improving national roads and bridges.
The President, joined by key economic managers, Department of Trade and Industry (DTI) Secretary Ramon Lopez and Department of Finance (DOF) Secretary Carlos Dominguez III, called for ASEAN's support for MSME development and expressed hope to further expand the Roll-On Roll-Off (RO-RO) facility to Davao-General Santos and Bitung in Indonesia.
"We will work and collaborate with ASEAN in helping the MSMEs look for all ways to connect them in the countries of ASEAN and the world. We will work in advancing our policy and regulatory environment providing an affordable and innovative digital platforms, and accessing best practices and financial resources," he said.
ASEAN must engage the world in a "robust way" by maximizing Free Trade Areas (FTAs) with Australia and New Zealand, China, India, Japan, and Korea, according to him. He also announced that the Philippines will host the Regional Comprehensive Economic Partnership (RCEP) senior officials' meeting in November 2016.
The President mentioned that ASEAN needs "stronger resolve and action to combat transnational crime" and noted that illicit and illegal drug trade undermines "social cohesion, the rule of law and the socio-economic programs of a country."
Speaking before members of the ASEAN Business Advisory Council (ABAC), which gathers leading CEOs, heads of chambers and commerce and industry and business organizations from ASEAN Member States (AMS), the President emphasized that sensibly-crafted and well-implemented laws are imperative towards bringing good governance and order, as well as providing an enabling environment for the country's progress and prosperity.
"We should act together in concert to ensure that the economic gains we made so far will advance at full speed, so that ASEAN can confidently play its rightful role as a global player contributing to economic growth and prosperity," he concluded.
The ABIS is ASEAN's premier annual business and investment event, which coincides with the 28th ASEAN Summit. Per organizers, ABIS is where the ASEAN private sector identifies, discusses and develops answers to pressing issues that impact the region's investment attractiveness and business potential.
ABIS 2016, carrying the theme "Operationalizing ASEAN Economic Community – Turning Vision into Reality," aimed at charting new ideas, opportunities and insights to propel the business sector towards regional development.