3 DTI officials selected as Most Influential Filipina Women in the World
Press Release
September 1, 2016
CEBU CITY – Three among the Department of Trade and Industry's officials namely, Undersecretary for Industry Promotion Group (IPG) Nora K. Terrado, Foreign Trade Service Corps (FTSC) Assistant Secretary Maria Roseni M. Alvero and Commercial Attaché Magnolia Uy were recently selected as 2016's Most Influential Filipina Women in the World (Global FWN100™) by the Filipina Women's Network.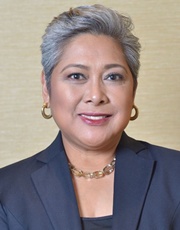 Ma. Roseni M. Alvero, FTSC
Assistant Secretary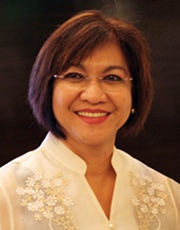 Nora K. Terrado, DTI-IPG
Undersecretary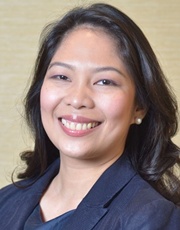 Magnolia M. Uy
Commercial Attache
Filipinas from across four continents representing ten countries flew in to Cebu for the awarding ceremony held last August 23. The Global FWN100 Award, awarded every year by the Filipina Women's Network (FWN), a non-profit organization that recognizes 100 women of Philippine ancestry who are changing the face of leadership in the global workplace, having reached status for outstanding work in their respective fields and are recognized for their achievement and contributions to society, mentorship and legacy.
DTI Undersecretary Terrado who was a two-time awardee, first selected in 2014 under the Builders category, and now selected under the Innovators and Thought Leaders category, which recognizes women who have broken new ground in the global workplace, have delivered new and unique applications of emerging technology transforming the way people think, in the fields of sports, literature, the arts and pop culture; or have improved the lives of others by helping develop a product or service in the fields of science, technology, engineering, sports, arts, or mathematics.
Terrado has been in the forefront of forwarding the country's innovation agenda and currently leads the country's trade and industry promotional efforts as the DTI Undersecretary for Industry Promotion Group. She is also known for her various contributions in implementing priority change programs at DTI during her stint as the supervising Undersecretary for Management Services Group (DTI-MSG) from 2013 to 2015.
FTSC Assistant Secretary Maria Roseni M. Alvero on the other hand was selected under the KEEPERS OF THE FLAME category, an award given to those who will ensure that the Vision 2020 of FWN is kept alive: A Filipina Woman Leader in every sector of the global economy.
Commercial Attaché Magnolia Uy was selected under the Builders category, which honors Filipina women for demonstrating exceptional business impact at a large workplace environment; displaying deep passion for a cause through collaborative initiatives or alliances on behalf of her own organization; and demonstrating high potential and skill with measurable results in the private sector or public sector. Ms. Uy was recognised for her contribution in concluding the Philippines' free trade agreement with the EFTA member countries (Iceland, Liechtenstein, Norway and Switzerland) as well as in putting MSMEs in front and center of the World Trade Organization (WTO) agenda.
Vice President Leni Robredo was also one of the awardees and also served as the keynote speaker at the 13th Filipina Leadership Global Summit. Robredo received the award under the "Nicole" category which honors Filipino women whose words, actions and activism inspire others to act and revolutionize society's way of understanding traditional beliefs and customs, thus leaving behind a Filipino global imprint.
The Global FWN100 Award™ is a working recognition award with a meaningful purpose and FWN's 2020 Vision: a Filipina woman leader in every sector of the global economy by 2020. The Filipina Leadership Global Summit was held on August 21-24, 2016 in Cebu, Philippines at the Shangri-La Mactan with the theme "Influence. Accelerate. Action."