BGen. Farnacio assumes as new 8ID Commander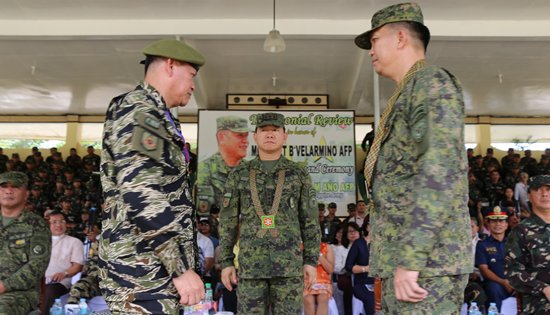 By DPAO, 8ID PA
October 13, 2016
CAMP LUKBAN, Catbalogan City – Brig Gen Raul M Farnacio AFP has formally assumed his post as Commander of the 8th Infantry (Stormtroopers) Division, Philippine Army in a simple Change of Command Ceremony held at its Headquarters in Brgy Maulong, Catbalogan City last Thursday, October 6, 2016 at 10 o'clock in the morning.
Brig. Gen. Farnacio replaced Maj. Gen. Jet B Velarmino who officially retired from the military service after serving in the AFP for more than 38 years.
The Change of Command Ceremony was presided by Lt Gen Eduardo M Año, the Commanding General of the Philippine Army and was witnessed by Gen Ricardo R Visaya AFP, Chief of Staff, Armed Forces of The Philippines; Maj Gen Raul L Del Rosario AFP, Commander, Central Command; PCSupt. Elmer Cruz Beltejar, RD, PRO8; Bishop Isabelo C Abarquez, Diocese of Calbayog; members of 8ID Multi Sectoral Advisory Board; 8ID Press Corps; Local Chief Executives; Stakeholders and other guests from the private and public sectors.
"We must see our vision for lasting peace and progress in the region as a response, as well as our vision to the call for change by our administration. We need to align our objectives with the higher headquarters, we need to align our effort to Army Transformation Roadmap which we expect to succeed our mission for peace and progress and we should fit ourselves as worthy implementers of these goals," Brig Gen Farnacio emphasized.
"We must also align our efforts in support to the ongoing peace talks with the CPP/NPA/NDF, as well as the government's drive against criminality and illegal drugs," Farnacio added.
Lt Gen Eduardo M Año AFP, Commanding General of the Philippine Army commended and congratulated MajGen. Velarmino for the successful accomplishments of this Command. Likewise, he challenged BrigGen. Farnacio to equal if not surpass, the commendable accomplishments of his predecessor in winning the peace in Eastern Visayas.
Brig Gen Raul M Farnacio AFP previously served as the Battalion Commander of the 20th Infantry (We Lead) Battalion in 2005 and 43rd (We Search) Battalion in 2006. At present, Brig Gen Farnacio is the 20th Commander of 8th Infantry (Stormtroopers) Division.