8ID supports 18-day campaign to end VAW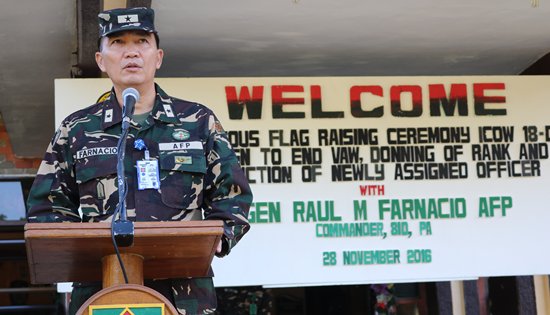 By DPAO, 8ID PA
November 29, 2016
CAMP LUKBAN, Catbalogan City – The Philippine Army in Eastern Visayas joins the nation's call to end violence against women (VAW) during the flag-raising ceremony at Camp Lukban last November 28, 2016.
In all countries of the world, women and girls are exposed to violence because of their gender. Its long term effect from physical, sexual and psychological abuse, oftentimes lead to death. Despite the fact that different social, cultural and political backgrounds give rise to different forms of violence, its majority and its patterns are remarkably endless as it prevents women from fully participating in society.
As enshrined in the 1987 Constitution, the Philippine government is committed to protect the human rights of women and to address all forms of violence against them. As this year's campaign theme, "Violence-free community starts with me", 8th ID is actively participating in the quest to achieve a VAW-free community through everyone's obligation and participation.
8ID has instituted the gender-based violence (GBV) referral system by handling GBV cases within the organization and by providing the necessary assistance and services to survivors and victims of this kind of violence.
In his message, Brig. Gen. Raul M Farnacio encouraged every female personnel of this command to empower themselves, to know their rights and available courses of actions if their rights are violated. Women in the service are also empowered to speak out and report to authorities and inspire others to fight for their rights.
On the other hand, Brig. Gen. Farnacio also directed every male personnel within the organization to respect women, especially girls in their homes, in their workplace and community. Male soldiers are encouraged to be a good role model and enlighten other men not to condone or commit violence against women and girls.
As he emphasized during his message, everyone must contribute to the total eradication of violence in our organization, family and the community.