4 Provinces, 1 City and 7 towns in EV bag DILG's Seal of Good Local Governance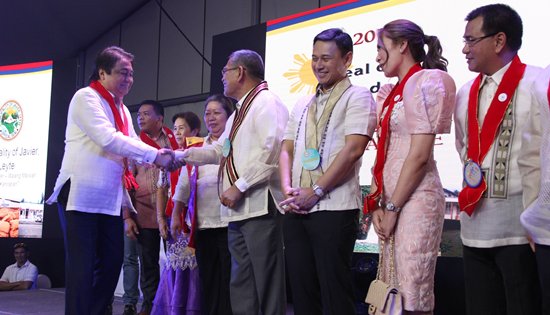 Press Release
November 3, 2016
TACLOBAN CITY – 12 local government units in Eastern Visayas proved that they belonged to a select group of LGUs nationwide that passed the highly coveted "Seal of Good Local Governance" of the Department of the Interior and Local Government (DILG).
The 12 which include the provinces of Biliran, Eastern Samar, Leyte and Samar; for Cities, Calbayog City; the municipalities of General MacArthur and Salcedo in Eastern Samar; Barugo, Javier, Tabango and Tolosa in Leyte; and St. Bernard in Southern Leyte, received their awards from no less than DILG Secretary Ismail "Mike" Sueno and Senator Juan Edgardo "Sonny" Angara during the culmination program of the 25th Anniversary of the Local Government Code at the Sofitel Hotel, Pasay City on October 27, 2016.
According to DILG-8 Regional Director Marivel C. Sacendoncillo, these LGUs passed several levels of validation up to the national levels, the three core SGLG criteria of financial administration, disaster preparedness and social protection, and any one of the essential criteria – business-friendliness and competitiveness, peace and order, and environmental management.
Of the SGLG awardees in the region, two – Biliran Province and Barugo, Leyte are repeat winners, having earned the SGLG award the year before.
During the awarding ceremony, DILG Secretary Sueno urged the 318 local government units (LGUs) which were conferred with the Seal of Good Local Governance (SGLG) and the Lupong Tagapamayapa Incentive Award (LTIA) to 'look forward to new challenges under federalism."
"Let us continue this journey of good local governance, of decentralization and local autonomy and look forward to new challenges under a federal system of government," said Sueno.
Among those given recognition was the LTIA National awardee for 4th-6th class municipalities, Brgy. Hingatungan in Silago, Southern Leyte, which received a project worth P300,000 to be used for further development of their barangay conflict mediation system.
Of the 306 SGLG awardees, 43 are provinces, 51 are cities and 212 are municipalities. The SGLG awardees will receive an incentive fund called Performance Challenge Fund, and will be able to access other DILG projects. For the complete list of SGLG awardees, please visit www.dilg.gov.ph (Reports and Resources).
The Local Government Code is a landmark piece of legislation that has revolutionized local governance as it devolved powers and authority from the national to the local governments.