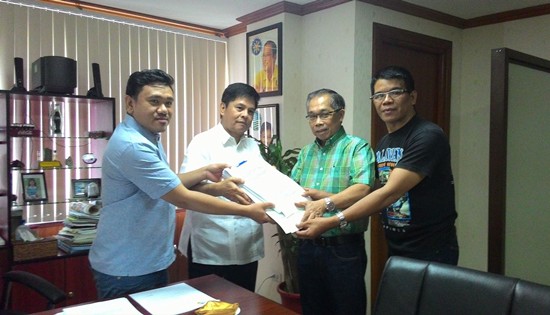 Rodne Galicha of the Climate Reality Project, MGB-IVB Regional Director Roland de Jesus, PNP General Orville Gabuna, Ret., and Dr. Tomas Faminial of Romblon State University and Romblon Ecumenical Forum Against Mining.
(Photo credit: Dennis Evora/Romblon News Network)
Romblon opposes mining anew
Press Release
June 27, 2016
MANILA - Led by Governor Eduardo C. Firmalo, residents from seven municipalities of Tablas Island lodged a complaint today at the Mines and Geosciences Bureau (MGB) Region IV-B against an offshore mining application of Asian Palladium Mineral Resources, Inc. (APMRI).
In April of this year, APMRI filed an application for Financial Technical Assistance Agreement (FTAA) for the exploration of palladium, platinum and other related mineral deposits in certain municipal waters in Tablas Island with a total of about 10,000 hectares.
Accepting the complaint, MGB Regional Director Roland de Jesus said that "we are mandated by law to facilitate the mining application process and we are also mandated to inform the stakeholders to know their stand and sentiments."
According to Director de Jesus, the bureau is always open to engagement with the civil society and communities as they are committed to inclusiveness and transparency. The complaint will be forwarded to the Panel of Arbitrators for resolution.
In a letter both addressed to Department of Environment and Natural Resources (DENR) outgoing Secretary Ramon Paje and incoming Secretary Regina Paz Lopez, Governor Eduardo Firmalo said that "the Province of Romblon, as a whole, we would like to inform your god office that we strongly object to the application of Asian Palladium Mineral Resources, Inc., to conduct any mining activity in the water areas of the island. No to metallic mining both on land and under the water has long been the united stand of the people of Romblon."
The LGUs and communities were technically assisted by a special committee created by Romblon State University (RSU), with the formal complaint compiled by Romblon Ecumenical Forum Against Mining (REFAM) and the Alliance of Students Against Mining (ASAM), which included 81,630 signatures, resolutions from the municipal, barangay and non-government organizations.
The complaint enumerated reasons of opposition such as protection, preservation and saving rich marine resource and livelihoods of fisherfolks, for the people of Romblon and the next generations to come; and Romblon is composed of critical island ecosystems.
Bishop Ronelio Fabriquer, chairperson of REFAM, said that "the people of Romblon will continue to oppose any mining activity as we take care of God's creation which should be used sustainably addressing our present needs without compromising the capacity of the next generation to survive."
In 2011, Governor Firmalo signed a moratorium on metallic mining and REFAM mobilized 10,000 people to oppose another mining application which eventually backed-out due to lack of social acceptability.
Rodne Galicha, co-chair of the Economic Development Committee of MIMAROPA Regional Development Council (RDC) and country manager of The Climate Reality Project said that "the stance of the provincial government of Romblon and its people is consistent with Sustainable Development Goals (SGD) targets especially on sustainable communities, climate action, and life below water."
"Tourism and agriculture are the best industries for Romblon and the region as a whole, considering our fragile island ecosystems and beautiful destinations and cultures," said Galicha.
Those who lodged the complaint were Professor Tomas Faminial of Romblon State University, Joje Mesana of ASAM, PNP General Orville Gabuna, Ret., from the municipality of Looc and witnessed by Rodne Galicha of The Climate Reality Project.