"We Lead" troopers spearheads tree planting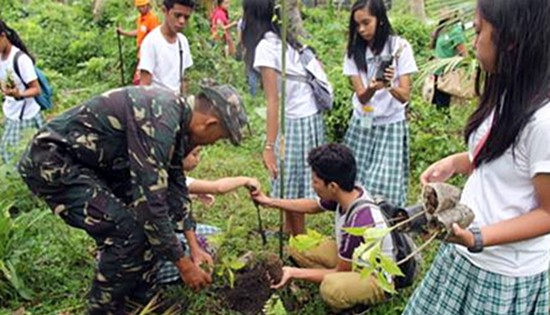 By DPAO, 8ID PA
February 17, 2016
CATUBIG, Northern Samar – The 20th Infantry "We Lead" troopers spearheaded the planting of 9,850 assorted fruit bearing and non-fruit bearing seedlings during the celebration of the love month from February 12 to 16, 2016 in Las Navas, Northern Samar.
The simultaneous Battalion-wide tree planting activity is in fulfillment of the Army's commitment in the implementation of the government flagship program that contributed much on the poverty reduction, food security, and biodiversity conservation and eliminates change mitigation and adaptation regarding global climate change.
The DENR provided technical assistance and monitoring to ensure the success of the projects while the military jointly identify the suitable tree planting sites for development in Las Navas particularly in vulnerable and hazard prone areas. The overwhelming support of LGU's, TESDA, DepEd, DENR, PNP and stakeholders made the implementation of National Greening Program more remarkable.
Lt. Col. Hilarion G. Palma the acting Commanding Officer of the 20th Infantry Battalion intent to lessen the great impact of the effects of global warming and to save lives. "Let us then anchor ourselves on enhancing and maintaining environmental integrity by undertaking sound and lasting environmental interventions", Palma added.