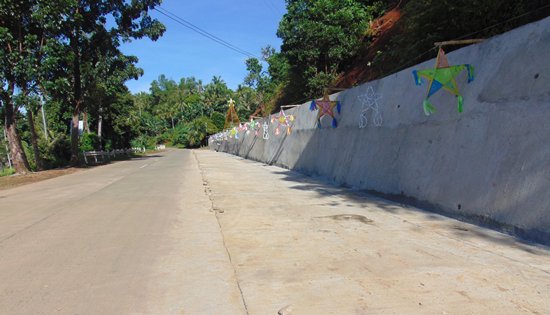 Completed portion of the Construction of Slope Protection Structure along Biliran Circumferential Road (Brgy. Sabang Section). Other than the slope protection structure, concrete paving of widened shoulders and construction of concrete canal are included in the project. As of November 30, 2016, it has an accomplishment of 58% under contract with MAC Builders with a contract cost of P41,782,330.92. Completion of the project will provide a structure that will prevent further landslide along this road section and contain run-off water during rainy days to prevent future damage to existing paved National Road.
DPWH-Biliran DEO accomplished 90.41% of 2016 infra projects
By CHELSEA C. QUIJANO
December 9, 2016
BILIRAN – The Department of Public Works and Highways (DPWH) - Biliran District Engineering Office (DEO) is fast-tracking the implementation of its 2016 infrastructure projects before the year ends.
Engr. Luisito Filemon A. Abad, Head of Procurement and Monitoring Unit during their guesting at Kapihan: Pulong-pulong ng Bayan on Radio Natin Fm reported that the district has already posted 90.41% accomplishment as of November 30, 2016.
Out of 66 projects implemented by Biliran DEO, 60 were already completed while remaining six projects under Regular Infrastructure Program are on-going.
These on-going projects includes P45M Construction of Access Road Leading to Declared Tourist Destination at Higatangan Island, Naval, Biliran, P43M Construction of Slope protection along Biliran Circumferential Road and P43M Slope Protection along Naval-Caibiran Cross Country Road, P43M Road Opening/ Concreting of Biliran Diversion Road, P8M Replacement of Banlas Bridge along Maripipi Circumferential Road and P5M Repair of Biliran bridge along Leyte-Biliran Road.
Abad revealed that the contactor have already started full operation in the Repair of Biliran bridge to complete the project the soonest time.
"It is only repair works on the rusted steel components under the bridge that is undertaken on Biliran Bridge hence there is no need to use barge in transporting the traveling public from Biliran Island to mainland Leyte," explained Abad when asked if people will be transported through barge during the repair of the said bridge which happened few years back.
Biliran Bridge is the only structure that connects the province of Biliran to mainland Leyte, thus, Biliran DEO is fast-tracking the implementation of this project along with other remaining projects.
"Hopefully we can complete two or three projects by December, parang tatlo lang ata ang may mga problema especially sa Diversion road na may problema sa road right of way," Abad said.
Abad also revealed that the district has been allocated with P911.4M worth of Project for 2017 Infrastructure Projects with a total final list of 44 infra projects composed of National Roads and Bridges (MFO1) amounting to P741.8M, Flood Controls (MFO2) costing 60M; Access Road and Airport to sea port (MFO3) amounting to P54.6M and additional 19 Local Infrastructure Projects (LIP) costing P55M projects excluding school buildings and Department of Agriculture projects.