2nd Kalahi-CIDSS Kamurayaw Songwriting Competition is now open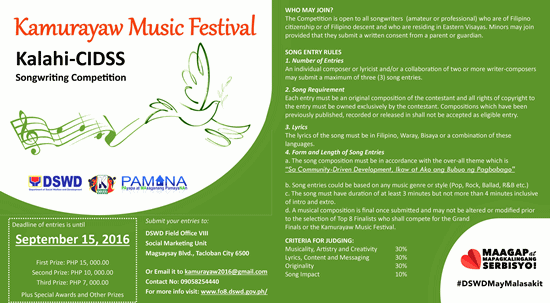 Press Release
August 15, 2016
TACLOBAN CITY – The Department of Social Welfare and Development's Kalahi-CIDSS or Kapit-Bisig Laban sa Kahirapan - Comprehensive and Integrated Delivery of Social Services in Eastern Visayas region is now accepting original song entries for their 2nd Kalahi-CIDSS Kamurayaw Songwriting Competition.
Said competition is open to all songwriters (amateur or professional) who are of Filipino citizenship or of Filipino descent residing in Eastern Visayas. Each entry must be an original composition and should be in accordance with the over-all theme which is "Sa Community-Driven Development, Ikaw at Ako ang Bubuo ng Pagbabago"
Lyrics of song entries must be in Filipino, Waray, Cebuano or a combination of these languages. Song entries could be based on any music genre or style (Pop, Rock, Ballad, R&B etc) with a duration of at least 3-4 minutes.
"Our first Kalahi-CIDSS Kamurayaw winner is Hermie Sanchez from Catbalogan City. His winning song entitled "Kusog han Komunidad" is now the official song of Kalahi-CIDSS in the region. Through this competition, we aim to explore the creativity and artistry within our volunteers and stakeholders, especially the youth sector while promoting the Community-Driven Development strategy of Kalahi-CIDSS", said KalahiCIDSS Regional Program Coordinator Babes Sequito.
Deadline of entries is on September 15, 2016. Official entry form could be downloaded though DSWD Field Office VIII's website www.fo8.dswd.gov.ph and www.facebook.com/KalahiCIDSSOtso/.
Song entries with lyrics must be sent to the Social Marketing Unit of DSWD Field Office VIII, Magsaysay Blvd., Tacloban City, 6500 or emailed to kamurayaw2016@gmail.com.
All song entries will be initially screened to obtain the Top Eight (8) finalists for the Grand Finals on September 30, 2016. The criteria are as follows: Musicality 30%, Lyrics and Messaging 30%, Originality 30% and Song Impact 10%.
The Grand Champion shall receive P15,000, while the second and third place will get P10,000 and P7,000, respectively. For more inquiries, please contact Kalahi-CIDSS Region8 at 09058254440.