DPWH completes high-rise classrooms in Dagami, Leyte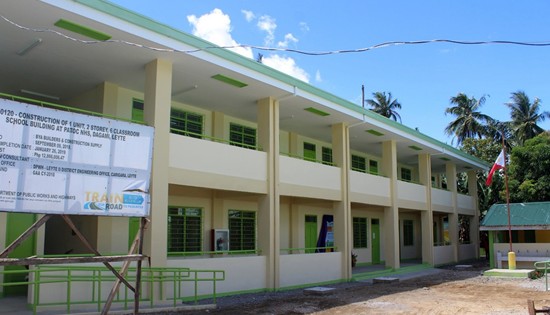 By DPWH 2nd LED
May 31, 2019
DAGAMI, Leyte – The Department of Public Works and Highways Leyte second district engineering office has recently completed the construction of a high-rise six-classroom school building at Patoc National High School (NHS) in this town.
According to Gerald Pacanan, the government allocated a total of P12.9 million for this project, built in strict compliance to the standards and specifications of the Department of Education and DPWH.
"Before we officially turn over building to the school, we follow strict protocols and conducts inspection to ensure that standards are followed. We take note even the slightest problem and address them to the contractor," he said.
The school building is provided with standard toilet and sanitary facilities, storage rooms and proper ventilation, each classroom installed with two oscillating ceiling fans. It is also equipped with fire alarm system and fire extinguisher.
Zenaida Parado, Patoc NHS principal said that this new learning facility will be used by grades 9 and 10 students. 678 students are expected here to attend classes on the first of school.
For 2018 BEFF, the district is tasked to implement 25 school building projects worth P371.39 million, of which 17 has already been completed and 8 are still ongoing.
BEFF is an annual budget for school building program, which covers the improvement and maintenance of school facilities.