DPWH 8 director checks roads, infra projects in Leyte II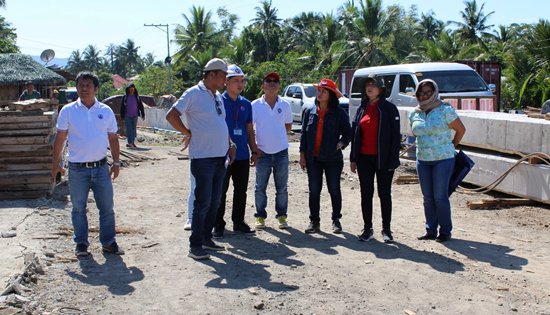 By DPWH 2nd LED
March 20, 2019
CARIGARA, Leyte – Department of Public Works and Highways (DPWH) Eastern Visayas regional director Nerie Bueno conducted a road check and project inspection in areas at Leyte second district engineering office.
Key officials of the district led by district engineer Gerald Pacanan accompanied Bueno and provided her the necessary inputs and information regarding roads and projects under the district's jurisdiction.
Bueno commended the district for the clean road sides and carriageways along national highway. However, she observed that some road sections have either low or high shoulder, and pointed out a specific newly-paved road with scaling.
Maintenance chief Francisco Robin Jr. noted all the remarks of Bueno and promised to take appropriate actions immediately. He also reminded the engineers to closely monitor infrastructure projects and to make sure that the contractors strictly follow program of works, plans and specifications of each project.
Aside from the road check, Bueno also inspected projects implemented by the regional office in Leyte 2. These are the Tingib bridge in Pastrana town, road concreting in Rubas, Jaro, Naugisan bridge in Carigara, and Naliwatan bridge in Tunga.
According to Pacanan, the inputs and comments of the regional director were all noted for proper actions in order to improve delivery of service to the public.
This is the second time Bueno visited the district, and the first time during the leadership of Pacanan as the new district engineer.
Overall, Bueno has seen major improvements compared to her previous visit. Now, she challenges Leyte II to work harder to maintain its good standing and improve in all areas.