18 new classrooms in Jaro, Leyte school nears completion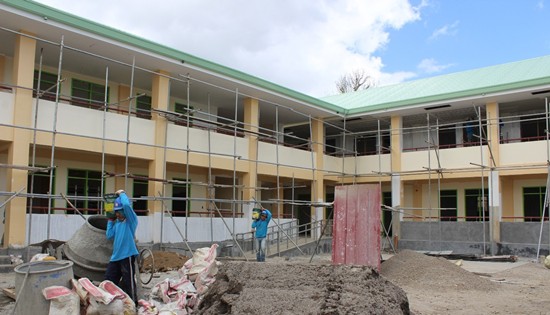 By DPWH 2nd LED
March 13, 2019
JARO, Leyte – A total of 18 classrooms worth P34.4 million will open soon in Granja-Kalinawan National High School, the Department of Public Works and Highways (DPWH) Leyte Second district engineering office reported.
According to Gerald Pacanan, DPWH Leyte 2 district engineer, the office target to complete these buildings before the new school year starts in June 2019.
"This is part of the government's efforts to provide a conducive learning environment for students, as each year, enrollees continue to rise with the implementation of K-12 program," he said.
On March 7, the district conducted an ocular inspection on the site to ensure that the program of works, plans and specifications are strictly followed by contractors.
These classrooms are divided into three two-storey units each with six classrooms, all according to the standard design of DPWH and the Department of Education (DepEd).
As of January 2019, GKNHS has a total of 128 teaching and non-teaching staff and accommodates 3,271 students from grade 7 to 12.
Nicerato Gonzaga Jr., the school principal said that with the construction of these school buildings, students and teachers will have a better interaction during classes.
"I am grateful that we are one of the recipients of the school building projects and for the fast implementation of DPWH," he added.
For 2018, the district is tasked to implement a total of 25 units of school buildings, equivalent to 137 classrooms worth P368 million funded under the DepEd Basic Educational Facilities Fund.