DPWH tackles right of way issues with utility providers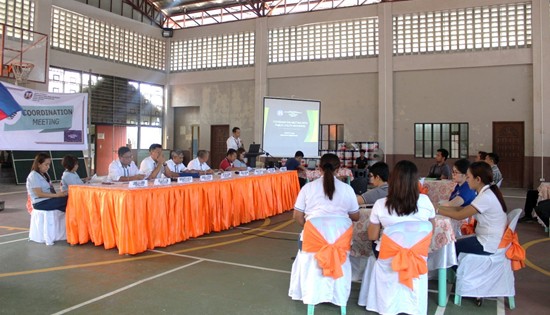 By DPWH 2nd LED
March 11, 2019
CARIGARA, Leyte – Representatives from various utility providers, Local Government Units (LGUs), and contractors attended the coordination meeting initiated by the Department of Public Works and Highways (DPWH) Leyte 2 district engineering office to tackle issues and concerns on Road Right of Way (RROW).
PLDT Co., Leyte Electric Cooperative III (Leyeco III), Don Orestes Romualdez Electric Cooperative (DORELCO), Leyte Metropolitan Water District (LMWD), Metro Carigara Water District (MCWD) and Jaro Water District were among the utility companies present during the dialogue on March 6, 2019.
Encroachment of water pipelines, electric posts and communication lines was the major concern brought up by the district.
In his opening message, assistant district engineer Daniel Estigoy said that the meeting is meant to establish unified actions on RROW by merging ideas from the department and stakeholders, as this has been a continuous problem that hampers project implementation.
DPWH Regional Legal Officer, Neil N. Reoma and key officials of the district explained the department order (DO) 73 series of 2014 or the "Prohibited Uses Within the Right-of-Way of National Roads" and DO 26 of 2011 or the "Policy on Diggings/Excavations by Public or Private Utilities on National Roads."
The district also reminded them that the total 20-meter right-of-way or 10 meters from the centerline of the carriageway is government owned, therefore, immediate removal of all obstructions and strict prohibition of constructing structures such us electric and communication lines and others provided in DO 73.
However, district engineer Gerald Pacanan, suggested to install their transmission and distribution lines, if possible, outside the 15-meter from the centerline in projection to the plan of the government to add more lanes on both sides.
"It is also costly on your part to remove and reinstall your lines in case of road developments and rehabilitations, so in anticipation, why not follow this scheme," Pacanan said.
More, Pacanan emphasized that this meeting is essential in formulating potential undertakings to expedite ongoing and future projects of the government under the Build Build Build program as it gears towards the Golden Age of infrastructure.
As agreed, the district will set-up a committee who will closely coordinate with the utility service companies and provide necessary documents to fast track processes concerning RROW.
Meanwhile, Pacanan appealed to the LGUs to help the district on concerns regarding obstructions of residential and commercial structures.