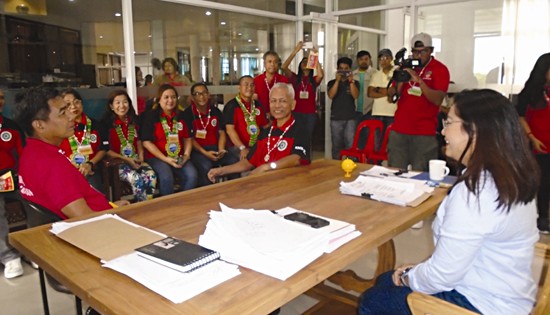 Palompon Mayor Myra Georgina L. Arevalo (right) interacts with media personalities from RONDA 1 headed by Pres. Bernie Errasquin (center) and HIMSoG-8 headed by Antonio C. Pueblos (left) during a visit to Palompon on July 15, 2019.
RONDA 1 media group visits Eastern Visayas, exchanges notes with counterpart HIMSoG-8
By JACK C. GADAINGAN
July 30, 2019
TACLOBAN CITY – A contingent of 13 practitioners of the quad-media from Ilocos Region (Region 1) visited Eastern Visayas for a technical rendezvous with National Nutrition Council Region VIII (NNC-8) media-group partner Harmonized Initiatives of Media for the Spread of Good Nutrition in Region 8 (HIMSoG-8) on July 15-17, 2019.
The media personalities are members of the Regional Organization of Nutrition Development Advocates of Region 1 (RONDA 1), the media-group partner of NNC-Ilocos Region. Like HIMSoG-8, RONDA 1 is also into the fight against hunger and malnutrition in Region 1, through the persuasive use of media power.
RONDA 1 contingent was headed by its President Bernie Errasquin, with him were gentlemen Romeo Umipig, Harry Peralta, and Cesar Obar; with ladies Celestina Paz, Maricel Fonda, Charity Frianeza, Milagros Abuan, Gina Mae Villanueva, and Gloria Tuazon; and escorts from NNC-1 headed by Regional Nutrition Program Coordinator (RNPC) Ma. Eileen B. Blanco together with Kendall Pilgrim A. Gatan and No Wyli.
A contingent from HIMSoG-8 headed by President Antonio C. Pueblos welcomed the media-visitors on their arrival at the Tacloban City Airport, and after a whistle-stop breakfast in Palo town, in a two-van convoy the two media groups proceeded on a three-hour journey to Palompon town, west coast of Leyte Island where the serious activities were scheduled to transpire.
In Palompon, NNC-8 RNPC Doc. Catalino P. Dotollo Jr., joined the congregation for the courtesy call and interaction with newly installed Palompon Mayor Myra Georgina L. Arevalo. Then the nutrition advocates from Region 1 and Region 8 proceeded to the Polompon Institute of Technology (PIT) for the scheduled nutrition promotion activities, and to observe the operations of NNC stablished FM station Radyo Kausbawan, a Nutriskela Radyo run by the academe.
After lunch, RONDA 1 and HIMSoG-8 tackled the main agenda of exchanging accomplishments – with each group making presentation of each's achievements, that was followed with questions and answers, and finding common grounds to share and adopt strategies to combat the common enemy, malnutrition! After which the media groups examined the broadcast booth of Radyo Kausbawan, which provided some the opportunity to air to local listeners their visit intentions to Region 8.
The following day, July 16, RONDA 1 with some members of HIMSoG-8 together with NNC-8 media conduit Novida Rico, proceeded to the town's Tabuk Marine Park Fish and Bird Sanctuary, a five-minute boat ride distance from the town center, where RONDA 1 conducted a scheduled Program Implementation Review (PIR).
On the third day, July 17, RONDA 1 contingent with Novida Rico for a guide, got the chance to tour Tacloban City tourist and historical sites, and observe the local nutrition situation first hand – prior their flight back home the flowing day to Ilocos Region.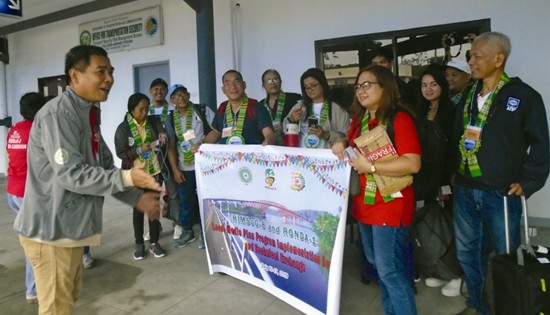 RONDA VISIT. HIMSoG-8 Pres. Antonio C. Pueblos welcomes the RONDA 1 contingent to Eastern Visayas on their arrival at the Tacloban City Airport on July 15, 2019.