DOLE-8 capacitates child labor program implementers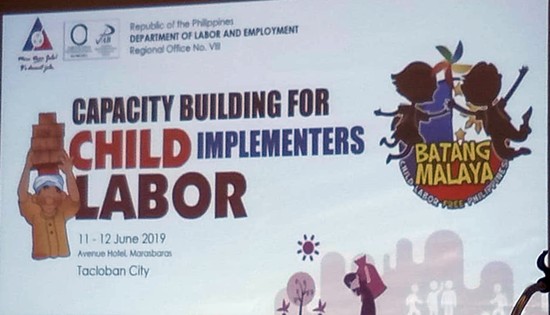 By NORMA RAE COSTIMIANO
July 19, 2019
TACLOBAN CITY – The Department of Labor and Employment Regional Office VIII successfully capacitated some seventy-five enumerators, encoders and community facilitators for the implementation of child labor program in Eastern Visayas last July 11-12, 2019 at Avenue Hotel, Marasbaras, this city.
DOLE RO VIII OIC-Assistant Regional Director, Atty. Cecilio I. Baleña welcomed all the participants coming from the seven provincial field offices of the agency namely North Leyte Field Office, West Leyte Field Office, Southern Leyte Field Office, Biliran Field Office, Samar Field Office, Eastern Samar Field Office and Northern Samar Field Office.
The two-day activity dubbed as "Capacity-Building for Child Labor Profiling Implementers" was conducted to orient all enumerators, encoders and community facilitators on the scope of work they need to deliver to effectively implement the child labor prevention and elimination program of the regional office.
For this year, DOLE RO VIII has been given a target of 10,575 child laborers in Eastern Visayas to be profiled, 30% higher than the region's target of 8,106 in 2018.
"Child Labor" is defined by DOLE as any work or economic activity performed by a child that subjects him/her to any form of exploitation or is harmful to his/her health and safety or physical, mental and psychosocial development.
Mr. Virgilio A. Doroja, Jr., Regional Child Labor Program focal and Senior Labor and Employment Officer, provided the National and Regional Child Labor Situationer. He likewise discussed Republic Act No. 9231 or the Anti-Child Labor Law, and Department Order No. 149-16 or the Guidelines in Assessing and Determining Hazardous in the Employment of Person below 18 Years of Age.
The roles of the enumerators, encoders and community facilitators were clearly tackled by Ms. Cristina T. Longjas, Chief of the Technical Support Services Division (TSSD) of the office. To fuel inspiration for the child labor implementers, she also presented the 2018 accomplishments of DOLE RO VIII in child labor profiling which summed up to a total of 9,715 child laborers profiled, accounting to a 120% accomplishment rate.
"We urge all of you to be passionate in doing your jobs. We need your full cooperation and support in order for us to be able to deliver our target for this year. Your contribution will be valuable to our goal of achieving a child-labor free Eastern Visayas", said Ms. Longjas.
On the second day, Engr. Mark Louie Daza and Ms. Ma. Dahlia Aseo, Child Labor Program focal persons of DOLE-NSFO and DOLE-SLFO, respectively, gave the child labor implementers orientation on the possible sources of data on child laborers as well as data gathering tips and reporting forms.
Since the task of the enumerators will involve interview with children, a topic on "How to Conduct Child -Sensitive Interview" was likewise given by guest resource speaker in the person of Mr. Edison Cinco, Social Welfare Officer II of Department of Social Welfare and Development Regional Office VIII.
The activity was capped with an open forum wherein questions relative to the implementation of child labor program were raised and clarified.
The services of the enumerators, encoders and community facilitators will be engaged by DOLE RO VIII for a period of six months through a Memorandum of Agreement.
A MOA Signing was held last July 15, 2019 during the 2019 Mid-Year Performance Assessment and Planning Conference of the regional office.