DE Adongay of Biliran DEO granted CES eligibility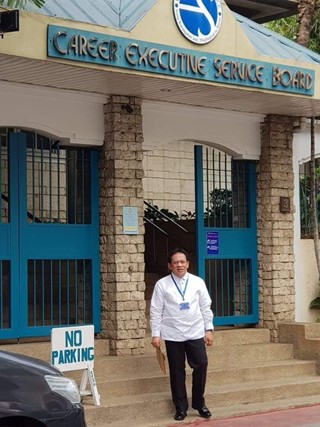 By DPWH-Biliran
July 19, 2019
NAVAL, Biliran – David P. Adongay Jr., District Engineer of the Department of Public Works and Highways (DPWH) Biliran District Engineering Office (DEO) has recently been registered in the roster of Career Executive Service Eligible (CESE) by virtue of Career Executive Service Board (CESB) Resolution No. 1466 dated June 20, 2019.
Career Executive Service (CES) is a continuing pool of well-selected and development-oriented career administrators belonging to the third level of the civil service who shall provide competent and faithful service.
Adongay is one of the six candidates who have been found to possess the required managerial capabilities and have passed the prescribed CES examinations in the latest conferment.
According to Adongay, passing CES means passing a stringent of four examination processes namely: Management Aptitude Test Battery (MATB), Assessment Center (AC); Performance Validation On-the-job; and Board Interview.
"It was not easy," described Adongay.
After passing the written examination for the first stage in 2010, Adongay was enlisted to the second stage of the exam which is AC in Mach, 2017.
In AC exam, Adongay said that a series of simulation test were conducted for a period of eight hours to assess how they would react to situations they encounter while working and how they solve problems.
"This tests were rated on several core competencies such as customer/client interaction, integrity, strategic and operational planning, problem-solving, etc." he said.
After passing the second stage, the district engineer submitted himself to the third stage on which is the performance validation on the job. In this stage, Adongay said that he has undergone a background investigation in the last quarter of 2017 to determine his accomplishments, competence, integrity and assets.
In March 2019, Adongay undergone the last stage of the examination process which covers a period of over one-hour board interview to determine his managerial and leadership styles, passion for work and performance ranking of office that would determine him to fit for the executive service.
Throughout the Philippines, Adongay said that out of 183 DEOs, only few District Engineers has been conferred with CES Eligibility.
"Modesty aside, I am proud passing the CESE. This is a defining moment of my life," he said.
Among the advantages of being a CESE is an opportunity to be promoted to higher position and a raise in salary but Adongay said doing public action is his motivation.
"D.P.A.", the acronym of his name, always reminded him that it stands for "Doing Public Action". By "Doing", it refers to performance, "Public" connotes people and serving them with utmost professionalism, "Action" means acting with urgency, professionalisms and adherence to desired change models. Modesty aside, this is what he had been advocating for in his whole career at the DPWH.
Adongay is equipped with a masters and doctorate degree in public administration in the University of Eastern Philippines. He graduated with flying colors in his Doctoral degree in Public Administration with an Academic Excellence and University College Award having General Percentage Average of 1.01. To top it all, he also got the Best Dissertation Award, Best Dissertation Presenter Award and a Leadership Award.
He was also a recipient of various citations and awards which totals to 81, notable of which is the 2011 Outstanding Public Officials and Employees or Dangal ng Bayan Award from the Civil Service Commission and Outstanding District Engineer conferred by DPWH Regional Office in 2017. On the same year, he was also nominated to an outstanding district engineer award nationwide.