Murang kuryente: Posible?
Groups oppose using of Malampaya funds to cover NAPOCOR debts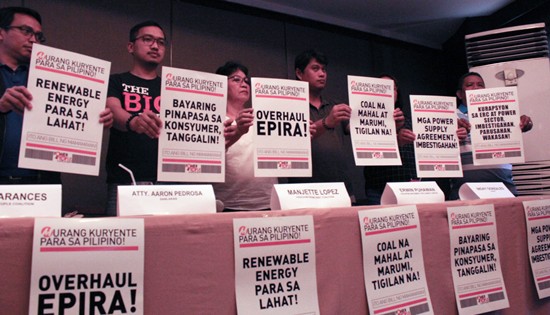 Consumers, CSOs urge legislators to address true cause of costly energy in the Philippines
Press Release
January 25, 2018
QUEZON CITY – A coalition of civil society organizations, coal-affected communities, and power consumers finds current pending legislative proposals insufficient to reduce the high cost of electricity.
The Power for People (P4P) Coalition in a press conference today warned that energy reforms are not enough "without overhauling the Electric and Power Industry Reform Act, the complete removal of pass-on provisions, expanding subsidies for impoverished consumers, rejecting the entrance of more coal in the energy mix, and combating corruption in the ERC."
"While we are glad that the problem of costly energy is front and center in the chambers of Congress, it will only continue to be felt by consumers if fundamental changes are not introduced and made into law," said P4P convenor and Center for Energy, Ecology, and Development (CEED) Executive Director Gerry Arances.
The Coalition zeroed in on the Murang Kuryente Bill which aims to use the Malampaya fund to cover the stranded debts and contract costs incurred by the National Power Corporation.
"Filipino consumers should not be paying for these stranded debts and costly contracts in the first place," said Arances. "The Malampaya fund could be more properly put to use in order to benefit ordinary end-users directly, like in expanding the coverage and increasing subsidies for households which use small amounts of electricity through the lifeline rates," Arances claimed.
"To put things in perspective, the P123 billion to be sourced from the Malampaya fund to pay off NPC's debt is already enough to provide 3.5 million households with one 200 W solar photovoltaic (PV) system each," he added. "Instead, while consumers may not pay for it in their bills, they are paying for it with the benefits they could have reaped from the Malampaya fund."
The Freedom from Debt Coalition (FDC) decried the use of the Malampaya fund as it would be still be citizens "bailing out" independent power producers (IPPs) for bad, costly deals they made with NAPOCOR and Power Sector Assets and Liabilities Management (PSALM), which acquired its assets and debts.
"We have continually called for the renegotiation of contracts entered into by the Ramos administration with local and foreign IPPs, as they have been found to be supplying electricity at a much higher price than other power producers," said FDC's Manjette Lopez. "Consumers have been at the losing end, paying for the price of these unnecessarily costly contracts ever since they were brokered, and PSALM has repeatedly over the years negotiated on behalf of IPPs for higher rates to be passed on to the public," she continued.
Atty. Avril De Torres of CEED warns of a similar situation being repeated with the increase of coal's share in the country's energy mix. "A study has found that all coal-fired power plants to go online in the Philippines will become stranded assets, and many of those operating are already in various levels of stranding," said De Torres. "Despite this, the administration remains adamant in pursuing more coal projects, with 3,500 MW of coal to go online this year alone," she continued.
"Not only this, but through Executive Order 30, the government is fast-tracking the approval of these projects," said De Torres, citing how almost half of the awardees of Certificates of Energy Project of National Significance (EPNS) are coal projects. "Without sober, scientific reflection of the economic costs of these projects, we will only have a repeat of consumers having to pay more for uncompetitive and costly power contracts in their monthly bills," she concluded.
"With renewable energy technology being more and more affordable and supposedly accessible for communities, it is appalling that the government is neglecting its potential to deliver cheaper electricity for the people," said Philippine Movement for Climate Justice National Coordinator Ian Rivera. "It is unjust how the Malampaya fund, instead of being used to fund initiatives by communities to set up and operate their own renewable energy systems, is being used to pay for contracts and debts involving dirty energy projects, the very things which are killing Filipinos with pollution and killing the planet with emissions."
P4P: Genuine "Murang Kuryente" Bills Needed
The Coalition then called for legislative action which will "address the heart of the issue and put consumers at the center of the solutions".
"The core of the problem is the idea that citizens should be paying for the costs that generation and distribution companies do not want to pay for," said Sanlakas Secretary-General Atty. Aaron Pedrosa.
"Poor Filipinos - especially women - bear the brunt of the high costs of electricity," said Inday Gonzales of Oriang Women's Movement. "That we have to adjust our daily expenses to account for the debts and costly contracts entered by the government and power producers is simply an injustice that cannot continue," she continued.
"Whether it is the universal charge, value added tax, or even the system loss charge which Congress presently aims to reduce, these are charges which should not be taken on by ordinary consumers but by the companies themselves," Pedrosa continued. "Overhauling EPIRA and disallowing any and all pass-on provisions are necessary first steps to truly address the problem of high costs. The question is whether the Congress has the courage to truly take on the corporations and their own vested interests in pursuing this agenda," he stressed.
Leody De Guzman of the Partido Lakas ng Masa Coalition spoke on behalf of consumers affected by high prices which are also exacerbated by additional daily burdens.
"Sunod-sunod ang atake sa bulsa dulot ng TRAIN Law, panibagong dagok na naman sa pamilya ng manggagawang Pilipino ngayong taon ang pagtaas ng presyo ng kuryente," De Guzman noted. "Tama na ang pamamayagpag ng anti-mahirap na EPIRA at mga monopolyo gaya ng Meralco. Kailangan na itong lagutin bago tayo ang lagutin nito," he concluded.