Karapatan human rights worker abducted in Mindanao; Kabataan Partylist organizer arrested in Central Luzon
By KARAPATAN
January 17, 2019
QUEZON CITY – "Yesterday, a human rights worker of Karapatan in Mindanao was abducted, while an organizer of Kabataan Partylist in Central Luzon was also illegally arrested. Both are women human rights defenders who have extensively worked alongside marginalized sectors. This series of rights violations is the latest in a string of atrocities that have been reported since the start of the year. If the first few weeks of this year is any indication of the months to come, then the dire human rights situation in the country will no doubt progressively worsen," said Karapatan secretary general Cristina Palabay.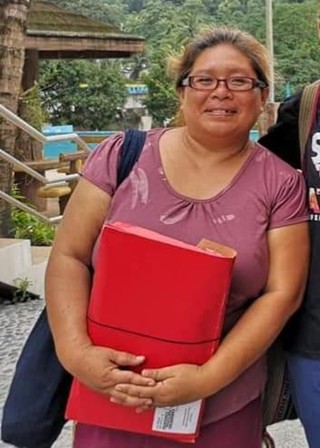 Racquel Quintano at Karapatan's 5th National Congress.
(Photo from Karapatan SMR)
On the morning of January 16, 2019, Racquel Quintano, 42, spokesperson of Kalumonan, an organization composed of kin of political prisoners in Southern Mindanao, was abducted by still unknown assailants. According to witnesses, as Racquel was waiting for a jeepney along Sunrise St. in Brgy. Madaum, Tagum City, a black car stopped in front of her. Men dragged her inside and sped off. A search team has been mobilized, but as of this writing, Racquel's whereabouts remain unknown. Racquel is also a human rights worker of Karapatan Southern Mindanao Region (SMR). She was among the delegates in Karapatan's 5th National Congress in August 2018.
"We strongly condemn the abduction of another Karapatan human rights worker, and demand that State forces immediately surface Racquel and return her to her family. We know Racquel as a staunch rights advocate. She assisted two torture victims in the filing of their complaints at the Commission of Human Rights (CHR) last year. She has worked tirelessly to seek accountability for the injustices done against the two victims, one of whom was a minor when the incident occurred," Palabay explained.
The Karapatan official also noted that a week ago, the human rights community have been branded by the President as enemies of the State. "From the start of his term, Duterte has mentioned Karapatan at least six times in his speeches, red-tagging the organization and discrediting our work. People like Racquel have worked under dangerous and disadvantageous circumstances to aid victims of rights violations throughout regimes. Yet, we ourselves are continuously being subjected to violations, with the government actively inciting threats against us," she said, adding that since 2001, at least 40 human rights workers of Karapatan have been killed by State forces.
On the same day, Jennifer David, 28, a community organizer of Kabataan Partylist-Central Luzon, was illegally arrested by elements of the police in her residence in Brgy. San Matias, Sto. Tomas, Pampanga. She was detained at the Sto. Tomas police station, afterwhich she was brought to a court in Cavite. Jennifer has worked with Kabataan Partylist since 2011. According to recent updates from the quick reaction team (QRT), Jennifer has now been released. She was interrogated by police and military elements.
"The danger that human rights defenders face, particularly women, under the Duterte regime has reached a critical level. Women who remain in the custody of State forces remain vulnerable to further abuses. In Mindanao where martial law is implemented, state security forces commit atrocities with reckless abandon. The same can be said in other areas in the country where de facto martial law is crippling any form of dissent. However, the voices of victims and their families, communities, organizations and rights workers continue to expose these abuses and demand accountability for these crimes against the Filipino people," Palabay concluded.