Catchwalls erected in Caglanipao, Cagmanipis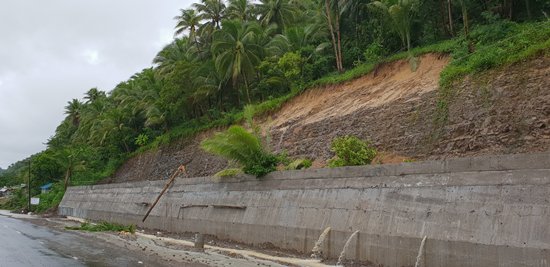 By CHENZI MAY D. UY
February 20, 2019
CALBAYOG CITY – The Department of Public Works and Highways Samar First District Engineering Office (SFDEO) has completed the construction of concrete catchwalls along national road of Barangay Cagmanipis and Barangay Caglanipao Sur in Tinambacan District.
The P100-M project was initiated in June 1, 2018, spanning a net length of 463.7 meters.
Project Engineer Alfredo C. Monsanto, Jr. explained that these areas are prone to landslide due to their unstable mountainous profile. "There is always a possibility for rockfalls and landslides to occur when there is a weather disturbance," he said.
In fact, in July 2017, the Calbayog-Allen road lanes traversing Caglanipao were closed due to landslide caused by incessant rains from Tropical Depression Gorio. The event resulted in P10-M damages and major inconvenience to hundreds of commuters. Approximately 138-meters of road area was covered with 15,000 cubic meters of soil and debris. Yet another landslide occurred in the area when tropical storm Salome hit Samar in November 2017.
A rockslide in Cagmanipis Sur was also recorded during the tropical storm Urduja in December 2017.
These national roads carry heavy traffic on a daily basis, so slope protection is a must for ensuring the safety of the travelling public.
Catchwalls are designed to arrest errant boulders that have broken off from the rock outcrop as well as prevent loose soil from spilling over onto the roads. These structures are essential to successfully building a safe and all-weather road not just for the travellers but for the local community as well.