DPWH-Biliran DEO conducts quality testing on construction materials
By NIKOLAI MERACAP
February 14, 2019
NAVAL, Biliran – The Department of Public Works and Highways (DPWH) Biliran District Engineering Office (DEO) Quality Assurance Section (QAS) conducted various test on construction materials. Proper method of sampling and testing of construction materials were observed as it contribute greatly to the accuracy of test result.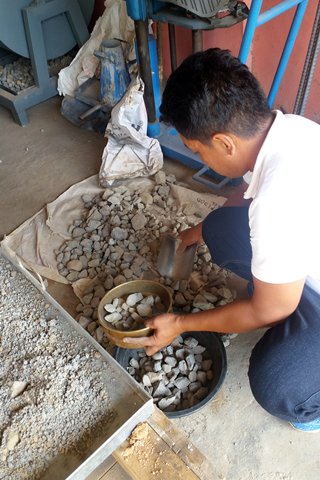 Sampling is equally as important as the testing and the sampler used every precaution to obtain samples that will show the nature and the condition of the materials which they actually represent. Sampling of construction materials for quality tests were conducted on various projects by the contractor and DPWH-Biliran DEO materials in-charge to ascertain that all materials incorporated into the work meet the minimum requirement by the DPWH.
Test are made in the field or at the laboratory to determine the quality or suitability of the materials proposed to be incorporated in DPWH projects. All samples submitted were tested in accordance with American Association of State Highways Transport Officials/ American Standard Testing Materials (AASHTO/ASTM) test methods and procedures and were governed by AASHTO/ASTM Standard Specifications as adopted by DPWH.
Quality tests on soil, fine and coarse aggregates were performed at the district laboratory. Sieve analysis was conducted on aggregates samples to determine the grading of materials proposed for use as aggregates. Result from the test was used to determine compliance of the particle size distribution with applicable specification requirements & to provide necessary data for control of the production. Specific gravity and absorption test were also performed by the laboratory technicians on the fine and coarse aggregates, both are important properties that are required for the design mix of concrete. Other test such as soundness, abrasion, organic impurities and mortar strength test, all of which are significant test needed to warrant good quality of materials used were all conducted.
Concrete cylinder and beam samples were also tested for its compressive and flexural strength with the use of the compression testing machine. The result of this test may be used as basis for evaluating the integrity of the structures constructed on site; determination of compliance with specification, control of evaluating effectiveness of admixtures and similar uses.
Reports related to quality control implementation were submitted to monitor the status of each project together with problems encountered in the field and corrective measures to correct any noted deficiencies or defects due to malpractice and noncompliance to the DPWH policies and standard specifications.