Employers, business, contractors faces up to daily P100K fine for workplace safety violation
By ALU-TUCP
February 10, 2019
QUEZON CITY – A more stringent workplace safety and health rules were issued last week by the Department of Labor and Employment to avoid a recurrence of serious workplace accidents that caused deaths and serious injuries to workers.
For example, contractors and business-owners whose offices, construction work sites and other workplaces devoid of comfort rooms and whose employees are without safety gear are facing up to P100,000 per day fine.
This is part of the new Occupational Safety and Health (OSH) Law issued by the Department of Labor and Employment that have taken effect this month, placing stiffer penalties on erring employers and non-compliant business owners to workplace safety and health standards.
According to workers' group Trade Union Congress of the Philippines (TUCP), Republic Act 11058 otherwise known as An Act Strengthening Compliance With Occupational Safety and Health Standards which President Duterte enacted into law in November last year is an offshoot of tripartite collaboration between government, employers and labor sectors in improving compliance to workplace safety and health standards in the light of preventable workplace fires and construction mishaps a few years ago which killed and injured workers while at work.
"It's painful to think that scores of workers had to die and so many working people had to be maimed to raise the level of compliance to workplace safety and health standards. Let us not forget this law is built on workers untimely deaths and injuries. We strongly hope there would be higher compliance to safety standards and reduce workplace accidents and mishaps with this new improvised workplace safety and health standard and regulations," said TUCP President Raymond Mendoza.
Mendoza said around 170 workers have died over the period of three years beginning May 2015 to May 2018 due to businesses and employers non-compliance to workplace safety and health regulations and building fire safety standards.
"Employers and businesses basically wants to improve their profits by ignoring workplace safety and health standards thereby risking and compromising the health and safety of their employees. It's always the workers who were made to sacrifice due to non-compliance and poor enforcement of regulations," Mendoza said.
The Kentex rubber factory fire incident in May 2015 which killed 74 workers and seriously wounded several others, the HTI fire in Cavite economic zone, the Holiday Inn fire, Resorts World fire and the series of construction mishaps which killed many construction workers.
On February 2017, five workers perished at HTI fire factory in Cavite, 38 fatalities, mostly casino employees, were recovered after a gunman set Resorts World Hotel rooms in Pasay City afire on June 2017. On December 23 the same year, 38 more workers were trapped to their deaths following a fire the destroyed NCCC Mall in Davao City.
Five construction workers were pinned to death after a substandard bunkhouse which they sleeping in collapsed shortly after midnight on March 6, 2018. Two weeks later, five casino employees were burned inside Manila Pavillion Hotel fire.
Under DOLE Department Order 198 otherwise known as the Implementing Rules and Regulations of Republic Act 11058 entitled An Act Strengthening Compliance with Occupational Safety and Health Standards and Providing Penalties for Violations Thereof, the daily administrative fines are as follows: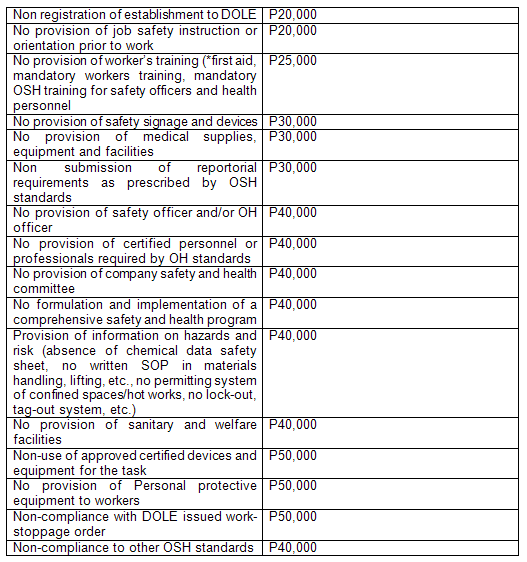 The DO also states that when the violation exposes the worker to death, serious injury or serious illness, the imposable penalty shall be one hundred thousand pesos (P100,000) a day, Should there two or more non-compliances, all penalties shall be imposed provided that the total daily penalty shall not exceed P100,000.