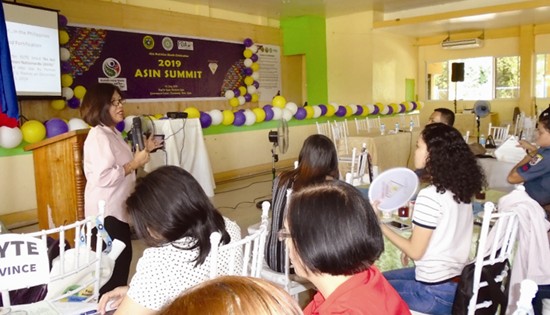 ASIN SUMMIT. Felecita R. Borata, DoH-8 Regional Nutrition Program Manager, tackles the "Iodine Prevention and Control Program," during the Asin Summit on July 26, 2019.
'Asin' Summit conducted in Eastern Visayas region
By JACK C. GADAINGAN
August 16, 2019
TACLOBAN CITY – Iodine deficiency remains the single greatest cause of preventable brain damage and mental retardation. Insufficient intakes of iodine during pregnancy and early childhood result in impaired mental development of young children. So that iodization of table salt is mandated by law as it is one of the best and least expensive methods of preventing micronutrient malnutrition in the country, particularly Iodine Deficiency Disorder (IDD).
Felecita R. Borata, Department of Health Region VIII (DoH-8) Regional Nutrition Program Manager, revealed this during the "Asin Summit" conducted on July 26, 2019 at the Department of Education (DepEd) Leyte Division Gymnasium, Palo, Leyte.
The one-day event, a part of July 2019 Nutrition Month celebration activities, was attended by municipal health officers (MHOs), provincial, city and municipal nutrition action officers (P/C/MNAOs), nutritionists/dieticians and rural sanitary inspectors (RSI) from around Eastern Visayas region. Also in attendance were a group of salt-traders from Tacloban City, representatives from government nutrition-partner agencies, nongovernment nutrition organizations, and the media.
Borata tackled the subject "Iodine Prevention and Control Program," where she scrutinized and explained to the audience the intentions of Republic Act No. 8172 or: "An Act Promoting Salt Iodization Nationwide and for Related Purposes (Asin Law)." Saying that Salt Iodization strategy has been implemented in most countries where iodine deficiency is a public health problem.
The law (RA 8172) intends to ensure that only iodized salt shall be available in the market for human and animal consumption, thereby it requires salt producers/manufacturers, importers, to iodize from 30 to 70 (mg/kg) or parts-per-million (ppm) the salt they manufacture, produce, distribute, trade and/or import, as well as the law further requires salt re-packers to repack and sell only iodized salt.
In Eastern Visayas, the Regional Bantay Asin Task Force (RBATF) is the body mandated to ensure the sustainability of the ASIN Law implementation – as well as to guarantee the iodization of all salt being produced, sold or traded, and utilized in the region. The body is composed of the DOH, NNC, DOST, DTI, PNP, DENR, FDA, PPA, PIA and LGUs among others.
The RBATF for the summit, reported that during a Post Marketing Surveillance on Iodized Salt from seven establishments conducted on November 6, 2018, result of the analysis of salt-samples taken from seven salt establishments in the region failed; and again from another Post Marketing Surveillance on Iodized Salt conducted on November 7, 2018 on salt-samples taken from six establishments, only two passed while the rest failed again.
Considering the volatile characteristics of iodine, the RBTAF engrained some reminders to the congregation, particularly the asin traders, distributors and sellers – that in order to minimize avoidable losses of iodine, iodized salt should not be exposed to any of the following conditions during storage, transport and display: 1. direct sunlight or near source of strong light, 2. high temperature and humidity, 3. contamination with moisture (e.g. rain, flood, etc.), and 4. contamination with dust or filth from the environment.