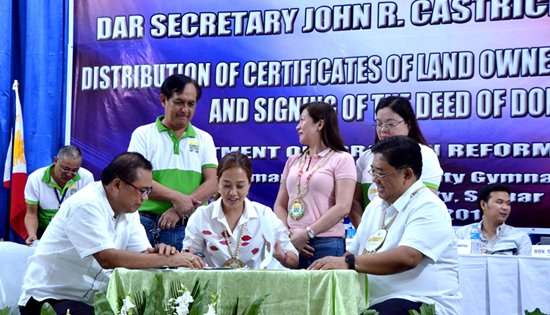 Paranas Mayor Eunice Babalcon (seated center) signs in the presence of Agrarian Reform Secretary John Castriciones (seated right) and Notary Public Atty. Medino Acoba (seated left) the deed of donation for the 300 square meter lot intended for the construction of the Samar DAR Provincial Office. Witnessing the event are (standing from left) Provincial Agrarian Reform Program Officer Enrique Granados III, Paranas Vice Mayor Yolanda Tan and Regional Director Sheila Enciso.
New DAR office soon to rise after lot donation
By JOSE ALSMITH L. SORIA
September 26, 2018
CATBALOGAN CITY, Samar – The provincial office of the Department of Agrarian Reform (DAR) currently situated in this city may soon be transferred to Paranas town after the local government unit (LGU) donated recently a lot for this purpose.
Paranas Mayor Eunice Babalcon representing her municipality as the donor and Agrarian Reform Secretary John Castriciones representing the DAR as the recipient, formally signed the Deed of Donation during the latter's recent visit to this province for the 300-square meter lot beside the Paranas evacuation center intended for the construction of DAR provincial office.
The two officials signed the document in the presence of Atty. Medino Acoba, a Notary Public, and witnessed by DAR Regional Director Sheila Enciso and Vice Mayor Yolanda Tan.
According to Babalcon, her municipality "is very much willing to give the property" considering the role DAR plays in improving the quality of life of the farmers.
Before the formal signing of the document at the Samar State University gymnasium, Castriciones dropped by the municipality of Paranas on his way to Catbalogan City from Tacloban City where his plane landed, per invitation of the Mayor and for the symbolic tree planting at the donated lot.
Provincial Agrarian Reform Program Officer II (PARPO-II) Enrique Granados III disclosed that the Samar DAR Provincial office used to occupy one of the offices at the provincial government center in this city until 2016.
Since the building they were occupying was to undergo renovation, the DAR provincial office transferred to another location.
From February 2016, they had been renting office space. At present, they are renting at the downtown area in this city at P140,000 a month which increases annually, Granados added.
Regional Director Sheila Enciso likewise shared that though Paranas is about 30 kilometers away from Catbalogan, the government would be able to save a big amount from rentals.
On the other hand, Spouses Rolando and Hideliza Tomalabcad likewise donated 7,000 square meters land intended for DAR employees home lots and dormitory. The couple though refused to issue a statement when asked for comments.
Signing of both documents coincided with the Secretary's distribution of certificates of land ownership award (CLOAs) to agrarian reform beneficiaries (ARBs).
In appreciation, the Secretary presented a plaque recognizing the donors act of goodwill.