DPWH Biliran DEO conducts axle load survey for the first time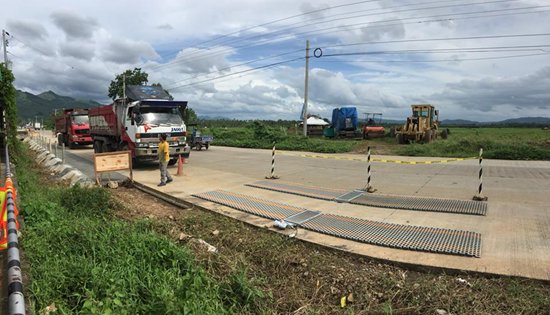 Press Release
September 25, 2018
NAVAL, Biliran – The Department of Public Works and Highways (DPWH) Biliran District Engineering Office (DEO) conducts a week-long axle load survey on large trucks passing through Biliran Circumferential Road (BCR) referenced at Sitio Riverside Brgy. Caraycaray, Naval, Biliran.
The operation was conducted 24/7 from September 4-12, 2018 on a rotational shifts spearheaded by Engr. Ian M. Lazarte, Regional Road Traffic Information Application (RTIA) Coordinator and Mr. Penny Lloyd E. Batoto, RTIA Coordinator of Biliran DEO.
According to District Engineer David P. Adongay Jr., the main purpose of the said activity is to collect data that will be used for appropriate design standards for the said road.
"It is done by weighing large trucks on a weighbridge installed on a national road" said Adongay.
In accordance with Republic Act 8794, trucks are prohibited from passing through national roads and bridges if their axle load exceeds the 13,500 kilograms per axle capacity limit and allowable computed gross vehicle weight (GVW).
The axle load surveys will also give information whether the roads are abused or not by the transporters, hence assist the Bureau of Design in deciding on appropriate corrective measures.
The summary of the data gathered is stored in the Road and Bridge Information Application (RBIA) and is used as one of the important inputs to the new planning and programming processes.
Axle load survey are part of the DPWH's mandate in ensuring road safety. This is the first time that Biliran DEO conducted the said activity in the province.