480 CAFGU trainees to boost Army strength in Arakan Valley Complex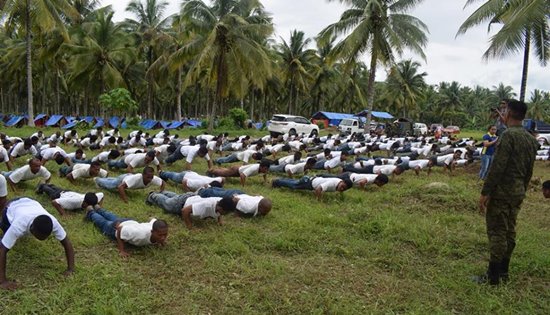 By 19th Infantry Battalion, 8ID PA
September 20, 2018
MAGPET, Cotabato – A traditional military reception rites tested the 480 recruits for the Citizens Armed Force Geographical Unit (CAFGU) during the first day of their training here, today, September 20, 2018.
The recruits who will undergo the 45-day CAFGU Active Auxiliary (CAA) Basic Training will be handled by the 72nd Infantry Battalion, to capacitate them with basic soldiery skills such as marksmanship and small-unit tactics.
Captain Alex Raposon, Commanding Officer of Hotel Company, 72IB said that upon completion of their training, recruits will be distributed to different battalions to serve as territorial forces and defend communities which are being threatened by the Communist New People's Army Terrorist (CNT).
In the past few weeks, the recruits underwent background, security checks and screening process in selected areas in North Cotabato Province. Some of them are Indigenous Peoples who came from the towns of Arakan, Antipas, Pres. Roxas, and Magpet or the so called Arakan Valley Complex where there is strong presence of the NPA.
Lt. Col. Ehrlich Noel Paraso, Commanding Officer of 19th Infantry Battalion whose unit assumed internal peace and security responsibility of the Arakan Valley Complex welcomed this recent development.
Paraso said that the territorial forces play significant role in preventing the NPAs from threatening Indigenous People's communities, recruitment of minors and extortion efforts.
Paraso hopes that there will be more people who will volunteer in the next batches of the training.