1 NPA killed in Las Navas, Northern Samar
By DPAO, 8ID PA
June 23, 2018
LAS NAVAS, Northern Samar – One (1) unidentified Communist NPA Terrorist (CNTs) left dead by his comrades after a 10 minutes firefight between elements of 43rd Infantry (WE SEARCH) Battalion and Communist Terrorist Group (CTG) at Brgy McArthur, Las Navas, Northern Samar on June 23, 2018.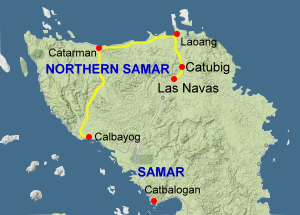 Earlier that morning, government forces responded to an anonymous tip from the residents in the area and immediately deployed 43IB elements to verify the veracity of the report. Few kilometers from the barangay proper, said troops were fired upon by undetermined number of CNTs forcing them to retaliate and firefight erupted. When fires subside, one (1) lifeless CNT armed with his M653 rifle (baby armalite) were found in the encounter site.
Col Ramil M. Bitong, Commander of 803rd Brigade, said that this incident could have been avoided if CNT heed to the call of the government to stop their extortion activity and avail the Enhance Comprehensive Integration Program (E-CLIP).
"This should serve as stern warning to other member of the lawless CTG that the arm of the law can reach you, no matter how long and far you can hide for evil never triumph as long as good men stands for what is right." Col. Bitong added.