High ranking NPA leader and 4 others, apprehended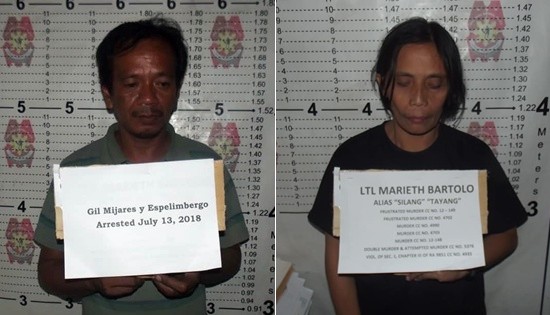 By 803rd Infantry Brigade, 8ID PA
July 14, 2018
CATARMAN, Northern Samar – Inter-agency operation conducted by elements of 803rd Infantry (Peacemaker) Brigade and Northern Samar Provincial Police Office led to the apprehension of Marieta Bartolo aka Tayang and four (4) others on July 13, 2018, 4:30 afternoon at Brgy. Bangkerohan, Catarman, Northern Samar.
Marieta Bartolo is the Front Secretary of Metro 1, SRC Emporium, an NPA unit operating in the municipalities of Pambujan, San Roque, Silvino Lobos, Las Navas, Mondragon and Catarman, all of Northern Samar. They are responsible on the atrocities against the military/police personnel and civilians in the said area.
The four (4) other captured suspects were identified as Ruth Martirez Figueroa, Bayan Muna President-Northern Samar and the incumbent Barangay Chairwoman of UEP Zone 3, Catarman, Northern Samar; Emboy Loberiano aka Bagyo; Danny Basiloy y Pinuton; and Gil Martirez y Espelimbergo.
The inter-agency operation is by virtue of two (2) Warrant of Arrests issued by the Gamay Regional Trial Court Branch Nr 38 for the crime of Murder under case Nr 12-148 and Frustrated Murder under criminal case Nr 12-149 against Marieta Bartolo aka Tayang.
Three (3) Cal 45 pistol, one (1) Cal .38 pistol, one (1) Cal 40 Glock Pistol, and one (1) KG9mm pistol were recovered from the vehicle used by the suspects. Other items recovered were twelve (12) envelops with P30,000.00 each and other subversive documents.
Col Ramil M Bitong, Commander of 803Bde, believes the cash are grease money to support the candidacy of Ruth Martirez Figueroa for ABC President of Catarman, Northern Samar and alarming to this incident is the collaboration of Bartolo and Figueroa, who were identified leader of NPA and Bayan Muna. Bartolo is believed to have raised the funds to ensure the election of Figueroa as ABC President.
"The suspects are now under custody of the Northern Samar Provincial Police Office and criminal charges will be filed against the suspects. Cohorts and other companions who escaped were subject to the man-hunt operation." Col Bitong added.