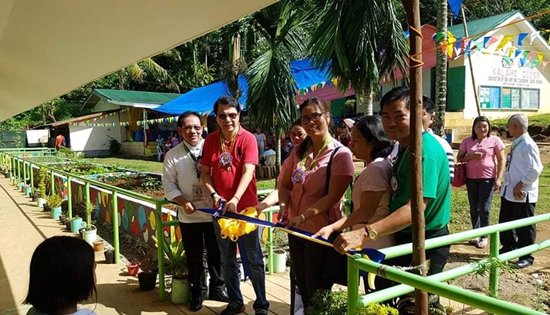 Congressman Rogelio J. Espina (in red polo shirt) and Ms. Leah Lim, School Principal lead the ribbon cutting rites of the newly completed school buildings in Maurang Elementary School in Caibiran, Biliran. The ribbon cutting was assisted by District Engineer David P. Adongay Jr., (in white longsleeve) and Engr. Warlito Alagao Sr. (in green shirt) of WB Alagao Construction on December 10, 2018.
P32.7M newly completed school buildings turn over to recipient schools
Press Release
December 28, 2018
NAVAL, Biliran – The Department of Public Works and Highways (DPWH) Biliran District Engineering Office (DEO) turns-over the newly completed school buildings to two recipient schools in the town of Culaba and Caibiran.
The Pinamihagan Elementary School in Culaba town and Maurang Elementary School in Caibiran town are among the beneficiary schools of the newly completed P32.7M school buildings.
In Pinamihagan Elementary School, P13M three school buildings with a total of nine classrooms is now operational after being turned-over on December 14, 2018 This school building can accommodate at least 360 students of the said school.
Meanwhile, P19.7M four new school buildings now also rise in Maurang Elementary School with a total of 14 classrooms. The school building that can accommodate at least 560 students was turned-over on December 10, 2018.
David P. Adongay Jr., District Engineer said that the newly completed school buildings were equipped with better toilets and ceiling fans to provide the students a conducive place for learning.
"With good school environment, our students will be motivated to learn as well as our teachers to teach," said Adongay.
"This school buildings can also be used by the residents as an evacuation just in times of calamities," added Adongay.
According to Adongay, the design of the school buildings were based on DPWH design standards which emanates from DPWH Central Office.
"As far as the design is concerned, the school buildings are sturdy," said Adongay.
DPWH-Biliran DEO is currently implementing a total of 71 school building projects under FY 2017 Department of Education (DepEd) - Basic Educational Facilities Fund (BEFF) amounting to P329.2M.
Out of 71, 61 were already completed, nine are on-going and one is Not-Yet-Started (NYS) with an accomplishment of 97.45%.