Samar-Leyte media group attend CARD MRI study tour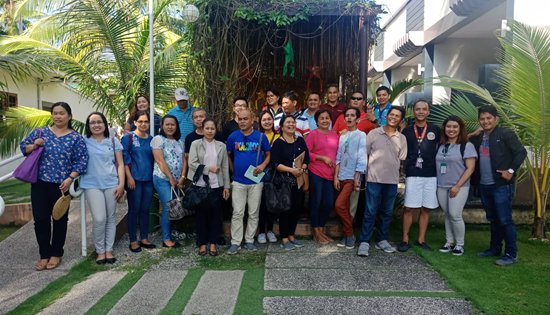 By CARD MRI
December 13, 2018
SAN PABLO CITY – Thirteen media practitioners from Samar-Leyte provinces attended the study tour for media organized by CARD Mutually Reinforcing Institutions (CARD MRI) on November 23, 2018 in Calbayog, Samar.
The study tour aims to give the media participants firsthand experience on the actual implementation of CARD MRI programs and services. "We have been doing this study tour regularly for our media partners to inspire them on how microfinance and community development work in eradicating poverty in the country," said Cyrene Grace DC. Lubigan, CARD MRI Publishing House Manager.
The tour started with a center meeting where participants were exposed on the implementation of microfinance program of CARD MRI on the field. They visited two organized centers within Calbayog. The two centers were established and managed by the clients of Center for Agriculture and Rural Development (CARD), Inc., a microfinance NGO and member institution of CARD MRI.
The center meeting is a weekly gathering of CARD clients in the community where they discuss various development-oriented agenda. It is also during this time where when Account Officers of CARD conduct Credit-with-Education (CwE), a program designed to educate and inform the clients about topics related to CARD MRI's products and services, health, livelihood, credit discipline, and disaster preparedness, among others.
According to Ike Macasa of Samar Sunday Star-Calbayog, the study tour is a once in a lifetime experience. "The immersion we did in the community made me appreciate the efforts of many development organizations like CARD to fight poverty. Now, my part is to push small entrepreneurs in our community to be involved in this kind of initiative," he added.
Participants also attended the Kaunlaran Caravan where CARD MRI showcased its development programs on health, education, livelihood, financial literacy, and social protection.
"It was really a wonderful experience joining the Lakbay Aral for Media of CARD MRI with the other media participants from Catbalogan and Tacloban. I am inspired on how the marginalized communities in the areas improve their businesses with the support of CARD," shared Genaro Navilon, broadcaster of DYOG Radyo Pilipinas-Calbayog.
Another series of study tour for media is expected to be organized by CARD MRI in 2019. CARD MRI is a group of 21 development-oriented institutions that aims to eradicate poverty in the country by providing microfinance and community development programs.